Are you looking for some ways to spend your summer outside? Maybe learn a new skill, or cook a new food? The Finger Lakes is home to classes that will keep you interested, whether you are 5 or 50! Here is our summer wrap up of classes for June and July.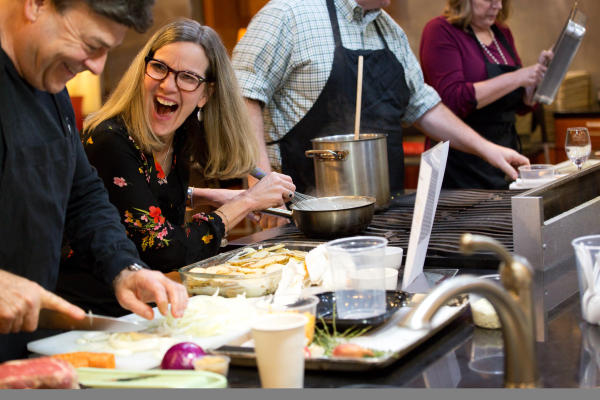 New York Kitchen in Canandaigua has been a hub for learning more about food, wine, and cooking ever since they opened their doors! So, it's no surprise that this summer is packed full of exciting classes that are worth the experience! Featuring classes for adults, couples, and newbie chefs alike, learn how a new technique can be brought home to your own kitchen. They also have an amazing Jr. Chef program for kids ages 12-18 interested in elevating their skills while making fun themed foods.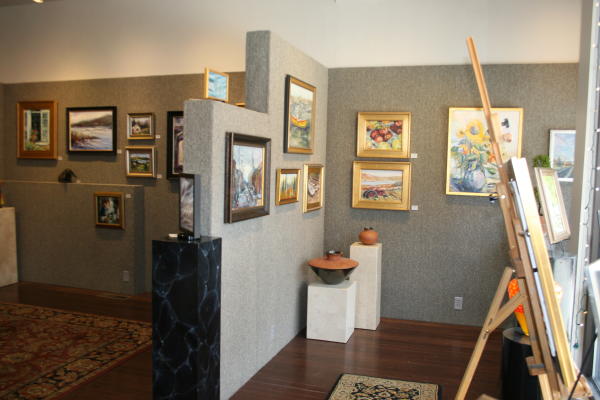 Learn fundamentals and advanced techniques of oil painting, acrylic, mixed media and more, led by local artists! Whether you are a beginner or an advanced creator, these classes are a great way to boost creative energy while relaxing and finding a peaceful state of mind. If you are looking for mindful activities to promote personal wellness this summer, art classes are an amazing way to get started or enhance your personal journey.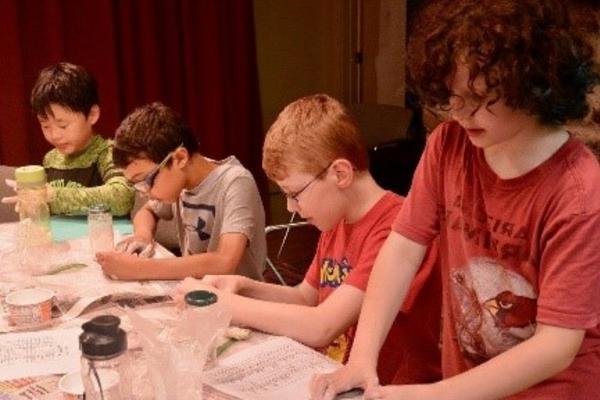 Writers and Books brings you their 2023 Summer Write program where kids can engage with their creative skills while reading and writing. 
SummerWrite, is a successful multi–week program that has been around since 1985. Youngsters at every level–from the reluctant reader to the budding novelist–find and share their unique voices, make new friends, grow in self-confidence, and pursue learning as an adventure.
Being involved in the creative process and the literary arts nurtures essential qualities of observation, critical thinking, imagination, and empathy. SummerWrite stretches our young people and asks them to grow in all these areas. We are here to plant seeds for a lifetime of learning.  Need-based scholarships are available for all SummerWrite camps.
SummerWrite partners with the Memorial Art Gallery, Flower City Arts Center, five Rochester branch libraries, and the Rochester School for the Deaf to deliver experiences at the intersection of storytelling, hands-on art making, and social justice. Tuition-free camps at Arnett, Lincoln, Lyell, Maplewood, and Phillis Wheatley libraries offer opportunities for Rochester children and teens to participate in their own neighborhoods.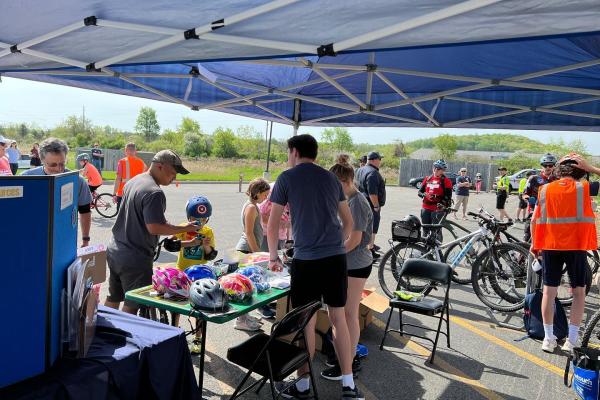 Victor Parks and Rec is the perfect camp for kids who like to get outside and be active! From an amazing biking program that is accessible for all children, to multiple sports camp leagues including lacrosse, soccer, baseball, and more, there are many ways to get outside and play this summer. 
City of Canandaigua Parks and Recreation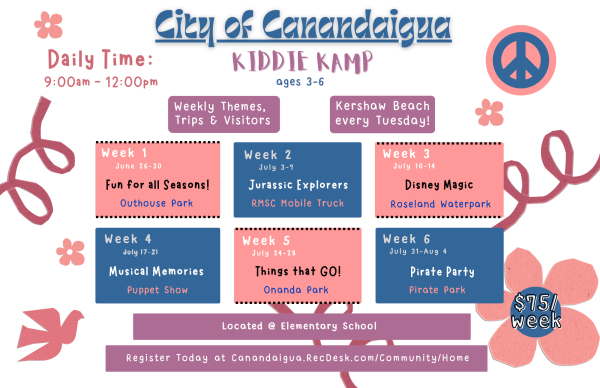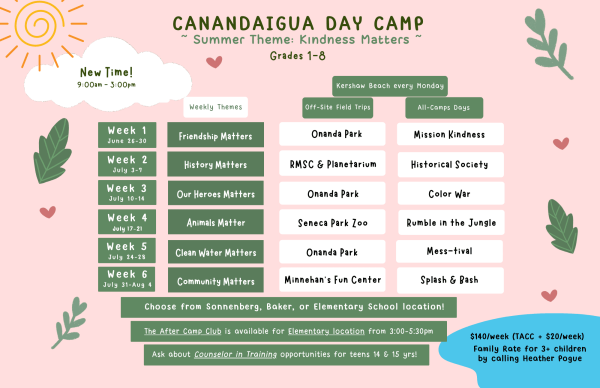 Check out the City of Canandaigua's Day Camp options for the kiddos! Fun activities that are a great way to fill summer days locally.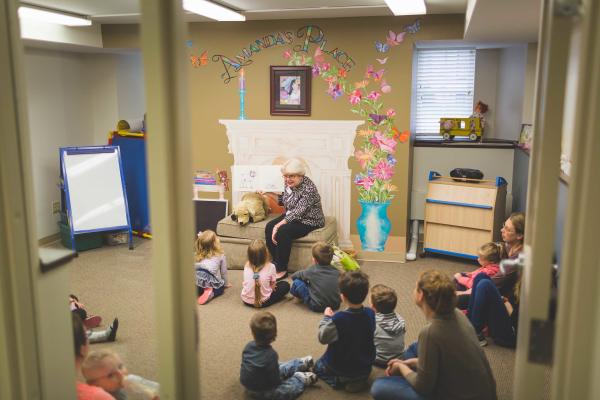 Children are VIPs at Wood Library: Very Important Patrons.  Our children's area is a warm and inviting place for children and families to explore, play, and enjoy.  Collections include books for babies through 5th graders, book-and-toy sets, children's music, dvd's and books on cd.  Visit our Play Space with toys and activity centers to encourage a child's creativity.  The Story Room is a perfect cozy setting for our story programs.  A wide variety of programs for children of all ages are offered.
Have reading fun all summer long by joining one of our reading clubs:
(preschoolers) – Color a reading sheet each day that someone reads to you.
(going into gr. 1-3) – Add to the reading display for each book you read or listen to. 
(going into gr. 4-6) – How many minutes can you eat up by reading? Keep track on your reading calendar!
Registration begins June 23 and continues through the summer. Sign up, get your packet and start reading!
Wood Library offers educational and social programs for adults of all ages and reading levels through a variety of materials, services, and programs. Programs offered include book discussion groups, author visits, film screenings, crafts, clubs and workshops, lectures on current events, and much more. Read the adult summer program list.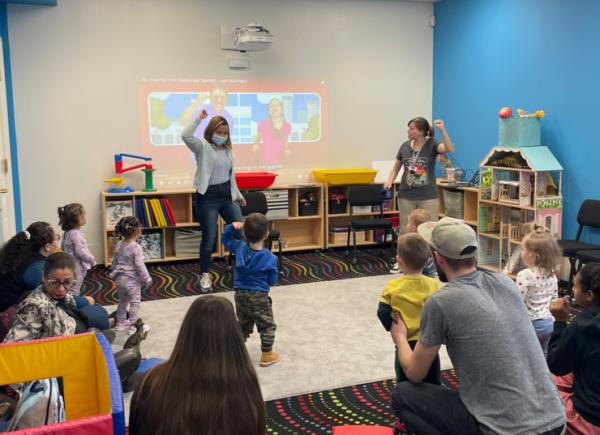 From Toddlers to 5th graders, the Geneva Public Library has incredible summer programs. From STEM programs, coding for young women, and Spanish & English Story Hours where kids can play while hearing an engaging tale.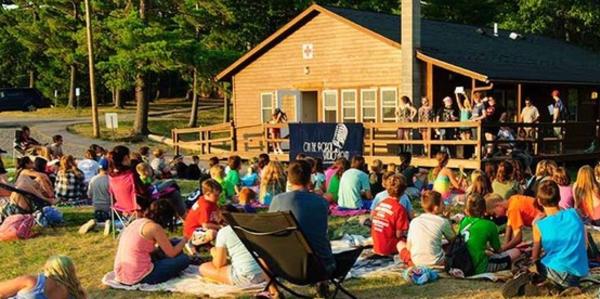 The mission of the 4-H camp in the Bristol Hills is to provide youth with unique, fun outdoor experiences under the guidance of positive role models, emphasizing positive social interaction, environmental awareness and skill building. They offer camps for ages 5-18, and have both day camps, programs, and resident camps that span from July to August.  
Summer Performance Camp at the Bristol Valley Theatre
Do you have a child interested in performing on stage? The Bristol Valley Theatre has an incredible summer performance program to help develop their skills and have a lot of fun! Guest instructors and writers, Jeff LaGreca and Suzanne Slade from New York City, will lead a three week intensive camp as performers (ages 7 - 18) develop and rehearse a hilarious parody musical called, "The Sound of Music...and Zombies." Performers will also participate in comedy workshops, improv training, and wacky musical antics.   
The Summer Session will culminate in a mainstage performance on July 28.
Dick's House of Sport Summer Performance Camps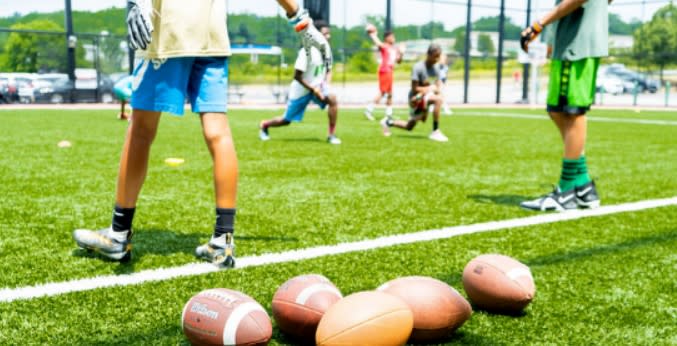 Football and Cheer HQ at DICK's House of Sport
Getting ready for football and cheer season? They have you covered.
Pro athletes, performance clinics, speed workshops, camps...we've got it all! Here is the list of upcoming camps being held at Eastview:
Football Prep & Performance Camp with Jake Zembiec & Elevate Sports Performance- July 29
SUMMER CAMP- Football Camp- July 17-21
Speed Clinic presented by Beyond Driven- July 18 and 20
Friday Night Lights with Latavius Murray- July 21
Cheer Clinic with Cheer Athletics Rochester- July 29
SUMMER CAMP - Cheer Camp with Cheer Athletics Rochester-July 31-Aug 4
Summer Camp HQ: Ideal for ages 8-12
They've got everything your child needs to stay active this summer. Plenty of sessions to choose from with something for everyone. 
June 26-June 30 Kick off to Summer Camp
July 10- July 14 Teamwork Makes the Dreamwork Camp
July 17- July 21 Football Camp
July 24-July 28 Christmas in July Camp
July 31- August 4 Cheer Camp
August 7- August 11 Dirt and Diamonds Camp
August 14- August 18 Scoop, Cradle, and Score Camp
August 21- August 25 Soccer Camp
 
Camp will be held on The Field, weather permitting.  
Questions? Contact us at eventsROC@dcsg.com