The Finger Lakes are home to many small, close-knit communities, the fabric of which is made from the people who inhabit them, yes, but also the small businesses that bring unique offerings to the area.  Here at the Finger Lakes Visitors Connection, we are so happy to celebrate those small businesses that attract our visitors, make this area a great place to live, and keep our communities thriving.  So, in honor of National Small Business Week - which is celebrating 50 years in 2013 - we'd like to highlight some of our Insiders' favorite small businesses!
Fresh and local in the Finger Lakes: I live by the belief that this is what makes my food taste better.  I purposely drive the back roads versus major highways – just a slower pace and that's where you find the family-run roadside stands that are my favorites! I love the variety and surprises that I discover when I have the opportunity to stop.  (Actually, I'll go out of my way and even risk being late to my next destination if I know there's a roadside stand nearby.) Maybe it's fresh veggies, jam, flowers, brown eggs, baked goods, handcrafts and more.  Just knowing it comes from the Finger Lakes and being able to get it fresh is what it's all about in the beautiful area where we live.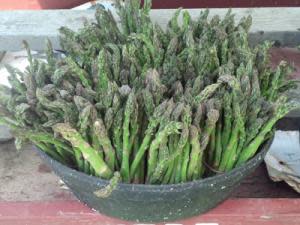 Like the others in my office, I consider myself a foodie.  I like to have my food finds inspire what I'm going to cook.  This time of year is great for fresh asparagus, and that's just what I found at Gentle Giants B & B in Geneva. Innkeepers Bill and Glenda Nash also have a large farm with a stand that features a variety of produce throughout the summer.  That asparagus inspired me to make a quiche using prosciutto and fresh cheese that I got from Casa Italiana in Canandaigua. I took it to the office to share.  Forget leftovers; obviously my co-workers love fresh and local, too.
Another stand I really enjoy going to is in Naples – Joseph's Wayside Market. Here I bought a loaf of garlic parmesan bread that had just come out of the oven and smelled wonderful , along with fresh biscuits and strawberries. While checking out, I made a mental note to myself – stop at my cousins, Joe and Danielle's farm stand, Washburn's Produce & Poultry on the way home and get some rhubarb to add for dessert.  I also picked up potted herbs to plant in my garden. Yup, I intend to use those fresh local ingredients in my cooking, too.
The roadside stands aren't the only places with a focus on fresh and local. One restaurant that I enjoy going to is Mill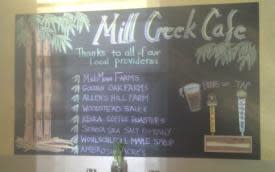 Creek Café in Honeoye. Owners Adam & Nadia Frick have done a great job finding the best local producers. They buy their fresh greens from Ambrosia Farms, sea salt from Seneca Sea Salt to season their hand-cut fries and homemade chips, beef from MichMow & Golden Oak Farms, and the granola they use in their yummy fruit parfait comes from Allen's Hill Farm. Allen's Hill Farm also provides a 5 grain pancake mix – which Mill Creek Café serves topped with Wohlschlegels' maple syrup.  While there, I ordered a "Mill Creeker" that Thea, our server, explained was hand-brined chicken, bacon, cheddar, spinach & Woodstead "Everything" sauce. There's not even a word to describe how delectable it was.
You'd think we'd be stuffed after that meal, but it didn't stop us from heading to Cobblestone Creek Bakery in Bloomfield for a little dessert.  Owner & pastry chef Julia Eberle delights the locals with her scrumptious treats, but I like to also take out-of-town visitors who are looking for delicious home-made food that is the taste of the Finger Lakes.  I try not to influence the guests I take there, but I have to admit I do have a few favorites such as Julia's breads, pies, cookies, scones and cakes... okay, so I love it all.
The list of places I mentioned above barely scrapes the surface of the roadside stands and restaurants that provide local farm-fresh products. I feel good when I buy fresh and local because not only is the quality and taste of the food spectacular, but I'm also supporting the small businesses in our area. I also just realized that there's another cool thing about these small businesses that are using locally sourced products: they are small businesses supporting other area small businesses which creates a perfect circle of keeping things local. How great is that?
Enough about my favorites. The Finger Lakes region is a beautiful area. Go out for a drive and I bet you'll discover your own local favorites.  Remember, fresh really is best. Bon appetit!