Hiking the trails of Ontario County is fun to do in any season, but if you're looking to add a new twist to your next adventure, consider Geocaching. Remember to adhere to social distancing guidelines when you head out!
Simply put, geocaching is a treasure hunt. It's the activity of hunting for, and finding, a hidden object by using GPS (Global Positioning System) coordinates that are posted on the Geocaching website. The game is completely free, and you can download the Geocaching app to most smart phones, or you can purchase a hand-held GPS device to help you find hidden geocaches. Once you have the app or a GPS device, you can start finding hidden geocaches anywhere around the world!
My husband and I – we call ourselves Chapin Street Couple – have found over 900 geocaches, so we consider ourselves pretty darn good at geocaching. The first step to becoming a geocacher – or "cacher" as the pros call themselves – is to go to the Geocaching website, register yourself and pick a screen name.
Here are a few more tips any new cacher ought to know: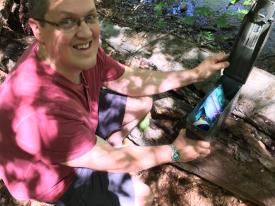 Use Your Senses
Your hand-held device will get you close to a hidden geocache, but when you get within 5 feet or so, put down your phone or GPS, and use your eyes and mind to carefully look for the hidden cache. It's an amazing feeling to come actually discover a cache!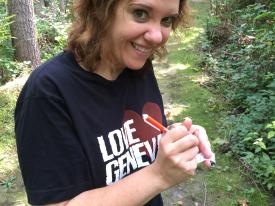 Bring a Pen
Nearly every geocache has some sort of "log" book inside, so you'll want to bring along a pen so you can sign it. You'll date the log as well – it's proof you found it, and tells the geocaching world you were there!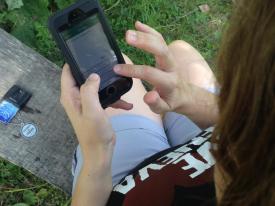 Write Great Online Logs
After you sign the log book inside the geocache, you still need to sign the log online at the Geocaching website. We tend to do it as soon as we make a find so we don't forget! Geocache owners and other geocachers love to read about your experience, so take a minute to write something unique to your adventure.
​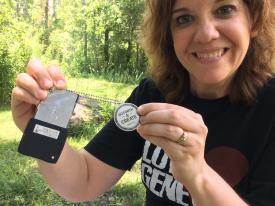 Move "Trackables" Along
A "trackable" is a piece that moves from geocache to geocache. If you find one, don't hang onto it. Keep it moving! Trackables have a code on them that you can record online so the owner can identify where the piece is at it moves from cache to cache. The item becomes a "hitchhiker" of sorts that is carried from cache to cache (or person to person) in the real world and you can follow its progress online.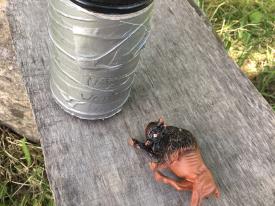 Swag Items Can be Swapped
"Swag" items are little toys or trinkets that are in a geocache that can be swapped and traded. They don't have any sort of trackable code on them, so if you see something you like, go ahead and take it. But a good geocacher usually has something to leave behind in its place.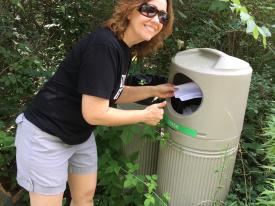 Cache In Trash Out
Be kind to the environment, and make sure to Cache In Trash Out (CITO) when you geocache. In other words, pick up litter along the way and don't leave anything behind.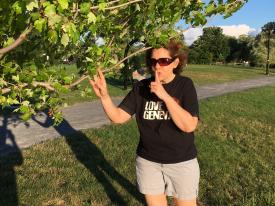 Beware of "Muggles"
"Muggle" is the term for a non-geocacher. "Muggled" usually refers to the discovery of a geocache by a nongeocacher, and it means it was dismantled or destroyed by an unsuspecting non-player. Those who are geocaching want to "tread lightly" around muggles and use stealth when looking for a cache in a high muggle area.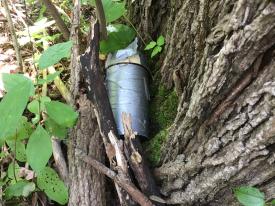 Put the Geocache Back Where You Found It
You want the next geocacher to have the same great experience you had, so make sure you put the geocache back where and how you found it. The geocache owner placed that geocache there at a specific location for a reason, so you want to make sure you respect that.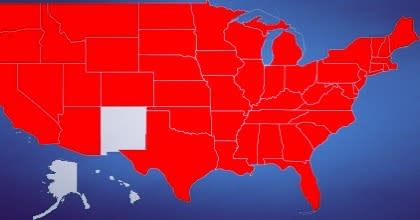 If you follow these tips, you'll be sure to have lots of fun, and you'll probably even meet great people along the way.
We have been caching all over Ontario County; but if you're new to the game, some spots I recommend are Mertensia Park in Farmington, anywhere along the Ontario Pathways, or Seneca Lake State Park in Geneva.

One more tip… a few things to keep on hand when you head out for your first adventure:
GPS unit and extra batteries (or a fully charged smart phone)
Swag for trading
Pens
Water and snacks
Flashlight
Sunscreen
Bug repellent
Rain poncho
First aid kit
Want to see all the other places you can explore in the Finger Lakes? Join our email list!