We are so lucky to live, work, and play in the Finger Lakes.  We have abundant water resources, greenery that goes on for miles and miles, and four seasons of varied, but equally beautiful, weather.  So this Earth Day, we'd like to celebrate that abundance of natural beauty by publishing a week's worth of blogs on all things that celebrate the Earth in the Finger Lakes!
A personal fan of local food, wine, and beer, naturally I am an enthusiast when it comes to Arbor Hill Grapery, a cornerstone of local business in Ontario County.  John Brahm III, along with wife Katie and daughter Sherry, has been in the local wine and products business since Arbor Hill opened its doors in 1987, most recently breaking into the beer scene.  Any visitor feels right at home when they approach the country complex – whether they're headed to the wine shop for a tasting or to buy some local dressings, or out back to the 150-year old barn for a local brew and brat.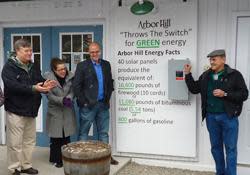 But, I'm not just here to tell you about the amazing experience you'll have when you visit Arbor Hill and Brew & Brats – no – I'm here to tell you about a momentous event.  An event that showed Arbor Hill's true appreciation for our Earth.
On Saturday, March 16th, 2013, Arbor Hill took a giant leap forward – into green.  In fact, they celebrated the start of their own solar system.
That's right, John "threw the switch" to jump start the 40 solar panels that Arbor Hill had installed to power the buildings in which its products are produced, sold, and enjoyed.  So, when you're tasting your Traminette, or taking that first bite into a delicious Hartmann's Andouille sausage, you can know that clean energy was the source of power that made those products possible.  Who wouldn't want their brat cooked with solar power?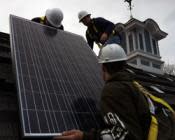 Even better, in the name of the environment: when the system is producing more energy than is being used by the Brahm's, there is an automatic system that sends the extra power to neighbors via the RG&E power grid.  How cool is that?
In John's eyes, installing solar panels on a 150-year old barn is a truly impressive way to utilize the assets of yesterday with modern technology.  In my eyes, it's another impressive move on behalf of Arbor Hill to celebrate local and embrace the amazing community and environment in which they operate in the Finger Lakes.