If there ever was a bit of heaven on Earth, it would have to be in the Finger Lakes. This came as a total surprise to this Connecticut Yankee who has rarely ventured outside of New England for vacation adventures. This time, a former neighbor who had returned to her Finger Lakes roots opened her doors to me for a weekend.
As I traveled along the New York Thruway, I noticed an opening up of the land, so unlike the closely aligned Berkshires I was used to. Upon getting closer to my friend's home in Gorham, I became mesmerized by the open spaces and skies, the striking cloud formations, but most of all by the seemingly endless green fields sculpted by perfectly designed rows of lush, fertile plants and vegetables. Rounded hay bales pristinely dotted fields, and lazy cows mooed softly in the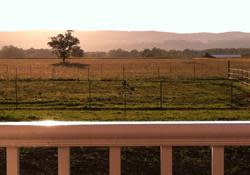 distance. There were farms ushering me in everywhere. Red barns connected to silos, standing staunchly by spacious, neatly-kept farm houses. An occasional Mennonite family passed me on the road, waving to me from their horse and buggy as if they had known me all my life. This is what I saw. This is what I felt.
When I drove up to my friend's home, which was set aside from the road by a sweeping green velvet lawn, I was struck by the view of the Bristol hills in the distance, rimming a valley below. Cool breezes greeted me – a welcomed relief from the stifling humidity of the Connecticut Valley I had come from. Here on this hill top was a sanctuary away from a too-crowded, too-much-in-a-hurry world. So began my weekend in the Finger Lakes.
Even though the next 2 ½ days were a whirlwind of activities, the beauty of this world was so absorbing that stopping was not an option.  Being a long-time stage performer, I wanted to be critical of the Bristol Valley Theater's production of "Barefoot in the Park."  But it was so charming, and so professional, that all I could do was marvel at the reasonable cost and the theatrical sophistication of this tiny theater tucked away in the middle of nowhere.  A trip to the Wizard of Clay, a local pottery store, forced me to buy more than I thought I would. (Readers, bring your plastic, you won't be able to leave this store without buying some of these beautifully crafted pieces.) This pottery is created by a true craftsman, with its signature leaf design.  A trip to this store is not to be missed.
Down the road from the Wizard of Clay was the Golden Oak Alpaca farm. Getting up close and personal with these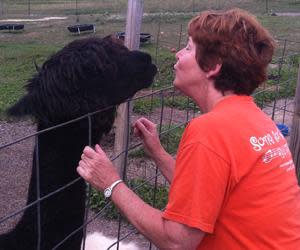 enchanting creatures was a true adventure. These herd animals clustered around us to observe us, with one in particular giving us some flirtatious attitude. It was such a wonder just to touch these magnificent creatures.  Next stop was lunch at Nolan's which gave me my first view of the park-like setting of Kershaw Park in downtown Canandaigua and its beautiful lake inhabited by glistening sail boats, soaring seagulls and boats of all kinds.  The setting seemed unreal, almost like being on a movie set.  From there we visited the Sonnenberg Gardens, the grand estate of local philanthropist Mary Thompson. This turn-of-the century mansion was surrounded by meandering, beautifully designed gardens that reminded you of a gracious past where contemplation and civility were part of everyday life.
The following day was spent careening down Keuka Lake in a motor boat, taking in the endless rolling mountains on either side of the lake, feeling the spray of fresh water and watching the water skiers fly by.  This was followed by a return trip to Canandaigua Lake where we paddled around on rented kayaks from Canandaigua Sailboarding.  The water was very calm and shallow, so beginner kayakers need not be intimidated. The day was topped off by a visit to the Notre Dame Retreat Center which also overlooked Canandaigua Lake.  I could imagine what an ideal place this would be for someone seeking contemplation and serenity.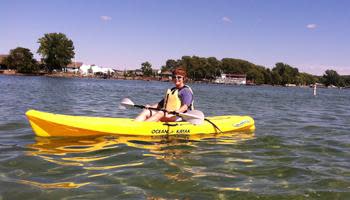 I had never seen nor met Mennonites before, but I had the opportunity to meet my friend's neighbors who owned a large farm across the way.  I was struck by their simplicity and their contentment, and the natural beauty of their gardens, their pasturelands and barns, their children and their household.  The many Mennonites I saw along the road who waved to me from their horse and buggies made me feel like I was privileged to see a special community that knew how to live well.
Perhaps most telling of all was the fact that I slept for nine hours straight each night – a feat I have rarely ever done.  Maybe it was the gentle breezes, maybe it was lying on the grass on a summer evening viewing brilliant stars that I rarely ever see, maybe it was the silhouette of my friend's horse against a scarlet-tinted horizon.  Maybe it was just being transported into another world that allowed me to sleep deeply and well.
Or maybe it was just that I had wandered into a little slice of heaven when I traveled to the Finger Lakes.