The good news spread quickly through my small hometown of Gorham in the Finger Lakes when a new owner, Bruce Baker, reopened the Old Mill House Family Restaurant this spring. The name has a historic significance because the Gorham Grain Mill was located next to this property on Flint Creek and had burned down in the 1940s. The restaurant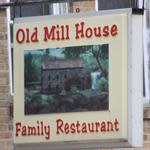 has gone through several owners over the years with a variety of menus. Growing up in Gorham, I remember it as Roose's Restaurant, a place to get a great cheeseburger and my very first cherry/vanilla Coke!  The restaurant has also always been the hub of the village where all the locals gather for their morning coffee chats to catch up with what's what and who's who - looks like that hasn't changed.
Old Mill House Family Restaurant serves breakfast and lunch only and is drawing diners from across the Finger Lakes. Breakfast is served any time and homemade to order is what you get. I love breakfast...especially when I get a chance to eat out...so Tuesday morning, I decided it was time for me to experience breakfast at the Old Mill. I called my sister-in-law, Barb, and asked if she wanted to join me for breakfast and off we went.  Barb commented she had occasionally stopped in for coffee at the Old Mill on her way to work for 30 years and was quick to notice that even though there have been different owners over the years, the new country decor has kept the small town atmosphere with a nice homey feel. 
As we entered, we found that instead of your traditional restaurant seating, we first placed and paid for our order at the counter. Colorful menus were clearly displayed on large chalk boards on the wall, one for breakfast and one for lunch. I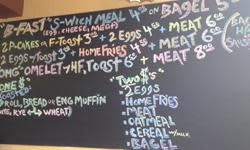 was pleasantly surprised also that the prices are very reasonable. Bruce then pointed to the self-serve coffee nook, told us to help ourselves to coffee and have a seat. Bonus: Coffee is all you can drink!
Coffee in hand, Barb and I chose a little table for two by the window, but there is also a horseshoe-shaped counter area where many of the local gents and ladies were seated enjoying coffee, and a smaller room off to the side with additional tables where some couples were eating.  Three school bus drivers from Dundee were sitting at the table next to us and our conversation quickly began about the town, people we knew in common and how happy they were that the Old Mill was open again! 
The specialty of the house is omelets, according to Bruce (known as the "Egg Man" from a previous restaurant experience), and from what I could see... he was right.  The omelets were coming out of the kitchen one after another to the "oohs and ahh's" of awaiting hungry patrons.  None were disappointed. Portions were ample with the plate filled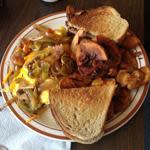 with an "OMG" omelet, home cut home fries, crisp bacon, and homemade bread for toast and OJ on the side!  Yum!  I'm sorry to admit this, but I had ordered only a poached egg on wheat toast, boy, my mouth was watering...it'll be an omelet for sure next time!

Our bellies were full and our bill was pre-paid, but wait, "self-serve" didn't pertain to just the coffee, it also included busing your own dishes when we finished, most likely how he is keeping his prices down.
All in all a fun morning, good food, good conversation and a visit to a "new" old hometown restaurant.  Here's to lunch someday soon at the Old Mill House Restaurant - looking forward to the infamous cheeseburger and home cut fries! "Déjà vu" again!