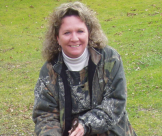 It's that time of year again when the deer hunters are out in full force in the Finger Lakes. I'm a morning person, but setting my alarm for 4:00 a.m. on a Saturday isn't my typical modus operandi. This Saturday is different, though, because it's opening day for gun season, and I'm out the door by 4:30 to meet my friends for an exciting day of deer hunting. Anyone who has spent time in the Finger Lakes has probably noticed there's an abundance of deer in the region, and it's the annual hunt that helps keep the population under control.
      Bow and arrow season starts a few weeks before gun season. My friend, Matt, (pictured at right) took this buck early in the season with his bow, which made me eager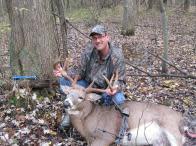 for my turn. I started hunting when I was 13, but I've never bow hunted. Instead, I proudly carry an Original Browning Sweet 16 shotgun that I inherited from my grandfather. He brought the gun with him to the U.S. when he emigrated from Belgium. (Although I never got to hunt with my grandfather, my father and I did hunt together for years.)  
     My friends and I have established an opening day tradition. We hunt on 300 acres of land in Victor that's owned by my boyfriend, Scott. However, the day isn't just about hunting: it's also about camaraderie and spending time outdoors.
       I've been hunting with this particular group of friends for twelve years. This year there were eleven of us, and nine of the eleven are related. For many hunting groups, including ours, this is a generational event. Our youngest hunter, Austin, is 14 years old, then there are his uncles, and rounding out the three generations is our most-seasoned hunter, Charlie, Austin's 85 year old grandfather.           
       Each season in the Finger Lakes holds its own appeal, including late fall.  Opening day for gun season was a beautiful, clear day. The crisp morning air woke me up and got me ready for the busy day. As the sun rose above the distant hills, our group stood at the edge of the woods making our plans. We take turns sitting on different watches. Some are assigned to drive the deer out of the woods while the rest are assigned to watch and wait on the perimeter. Most of my hunting partners weren't happy with the unusually warm late fall temperatures, but they suited me fine. I don't feel the need to stand and shiver for hours while waiting for a deer to run out.
       Those who are driving get plenty of exercise. For this day's hunt we were up and down sand and gravel pits and tromping through dense woods. We're on our feet for almost fourteen hours, but being outdoors is worth it. I enjoy feeling like I'm in tune with my surroundings and nature. It's important to be alert at all times, and you honestly don't miss much, including the turkeys and squirrels that seemed everywhere. But it's all part of nature and part of why I find hunting so fun.
            During breaks between drives we'd gather to regroup and consider our next strategy. I enjoy the teamwork and collaborative effort required to make the hunt effective. It's also during these breaks when we have venison sausage and jerky. Yum!  It's also not unusual to swap venison-related recipes or hunting stories. Like the fish stories where the fish seems to get bigger with every retelling, hunting stories also often tend to get "stretched" a bit, but that's also part of the fun.
            We had a successful hunt on opening day. Our group took two bucks and two does. Deer hunting season lasts for a few weeks, so chances are when we go out again more members of our group will take home the prize, too. Like so many other hunters, I look forward to this annual tradition, but this trek in the woods is about more than hunting. My dad and grandfather are gone, but for those few days each year I feel like they're with me in the woods. It truly is a generational thing.