Just because you're on vacation does not mean you have to take a vacation from celebrating the country's most patriotic of holidays, Independence Day, or Fourth of July.
Ontario County has several celebrations happening, ranging from a parade, a picnic and fireworks to a lakeside ring of fire.
The latter, Honeoye Lake's ring of fire, is especially endearing to Finger Lakes residents. Flares are lit on shore all around the lake, encircling the water with beautiful brightness that ascends to the summer sky. The Ring of Fire is also a beloved end-of-summer ritual on Canandaigua Lake on the Saturday before Labor Day. 
Here is the schedule of events.  
FARMINGTON: Fireworks take place on Friday, July 3rd at the Town Park, 1000 County Road 8, Farmington. There will be live music and food vendors starting at 6 p.m. and the fireworks start at dusk (around 9:30 p.m.).
GENEVA: Before the fireworks at 10 p.m. on Friday, July 3, you can enjoy carnival rides, live music, food and games at the American Legion, 1115 Lochland Road, Geneva. The doors open at 5 p.m. The cost is $5 for parking on site, $2 for parking off-site and walk-ins.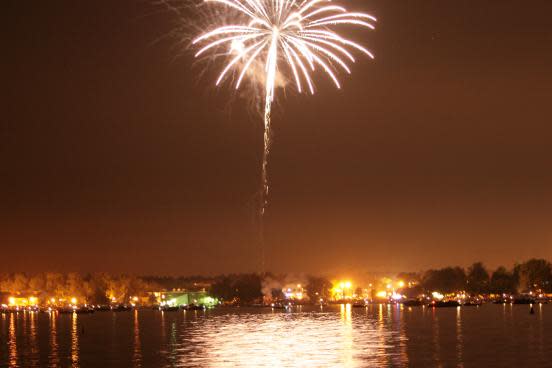 RICHMOND: The Town of Richmond and Richmond Fire Department are presenting Fireworks at Sandy Bottom Park on West Lake Road at the north end of Honeoye Lake, Richmond, on Friday, July 3, starting at dusk (around 9:30 p.m.). Residents around Honeoye Lake also take part in a Ring of Fire at the same time.
On Saturday, July 4 the Town of Richmond Community Parade starts at 11 a.m., marching from United Church to the Town Hall Gazebo.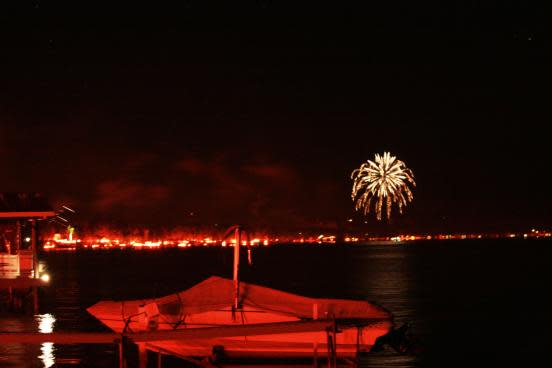 CANANDAIGUA: There is a full day of activities in Canandaigua on Saturday, July 4, starting with a parade at 10 a.m. The parade starts on Ontario Street, travels south on Main Street and then proceeds to Lakeshore Drive.
At 3 p.m. there is a Community Picnic at Kershaw Park, 155 Lakeshore Drive , Canandaigua, with many food vendors offering all kinds of summer fare.
From 6 to 9 p.m. the Kershaw Park Gazebo, also at 155 Lakeshore Drive, listen to live music by Taran. 
Then at 9:30 p.m. the fireworks start, weather permitting.
A note about parking: Due to the Lakefront Planned Unit Development ("The North Shore" Project) taking place across from Kershaw Park, parking on or near Lakeshore Drive will be very limited. Free parking can be found in municipal lots in Downtown Canandaigua on West Avenue, Ontario Street, Lafayette Street, Mill Street, and Bristol Street. Visitors are encouraged to park Downtown and walk to Kershaw. When the large crowd of guests disperses at the end of the night, traffic becomes very congested in the Lakeshore area. Parking in the municipal lots further up Main Street and walking will help visitors avoid congestion and help guests get home in a timely manner at the end of the celebration.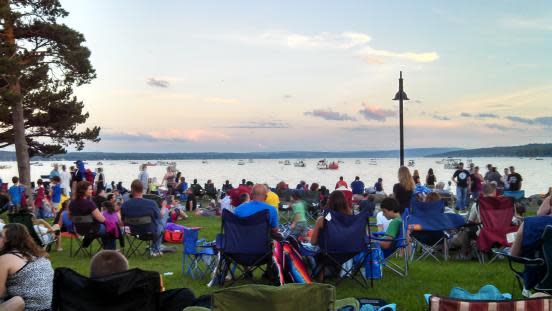 A NOTE ABOUT SPARKLERS: If you are planning a little bit of DIY excitement this July 4th weekend, do note that you can now purchase and use sparklers legally in Ontario County. They may be purchased through July 5 (then again between Dec. 26 and Jan. 2) by anyone age 18 and older.