There's a Phelps County in both Missouri and Nebraska and a town named Phelps in Kentucky and Wisconsin. There is even a Lake Phelps somewhere, according to Wikipedia. 
But this week, I spent the "best" time in Phelps, New York, at a Business After Hours event sponsored by the Phelps Chamber of Commerce.
The Finger Lakes Visitors Connection team decided to take advantage of this event and mingle in a couple of different places in town. First stop, the Water Side Wine Bar. I wish I had a photo to show here, but it was dark when we arrived. Still, we looked out through the picture window directly down to the awesome Flint Creek waterfall.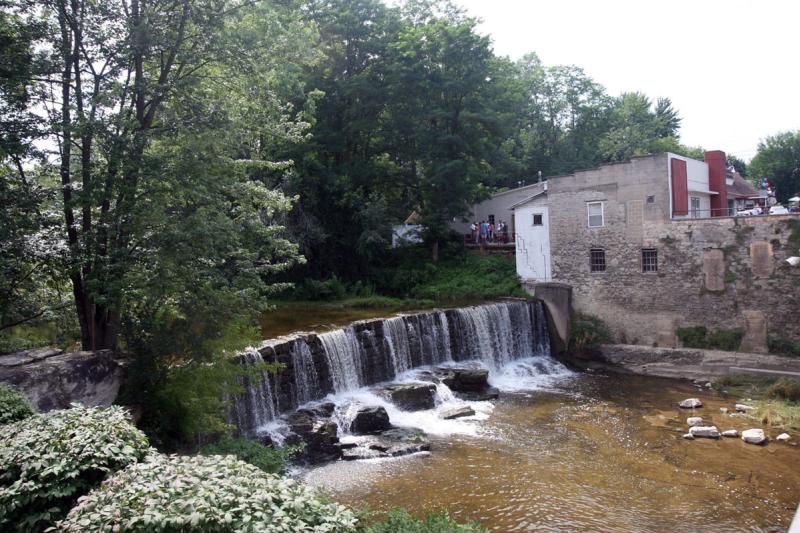 That rushing water was beautiful. It was especially intriguing to hear the story from the owner, Al, about how that window was made by pushing away "rocks," with men hanging from ropes and putting that window back in. If you have a little bit of vertigo, you might want to step back. You can't even get this view at Niagara Falls.
Once we closed our jaws from this sighting, we went right to a Tuesday night beer tasting. Local beers, local wines and innovative bar food were all on the menu. We held off eating because we were headed to the main event, but we could have had anything from an Argentinian taco to a burger. We all remarked that we could see a party coming on at this facility and can't wait to go back and hear one of the bands and eat some wood-fired pizza and maybe, well definitely, have another taste of the local brew or wine.
Speaking of local beer and wine, the next stop was the chamber mixer and we were lucky to have it at the Crafty Ales & Lagers just down the street. Within one or two blocks of walking, you can have access to a brewery, a wine bar with local wines, great food and even the Historic Phelps Hotel, which is now a restaurant and party house. 
At Crafty Ales we were well fed with Fat Boys Pizza. I love the name and we all really liked the food (try the steak pizza or the calzone or the dessert pizza).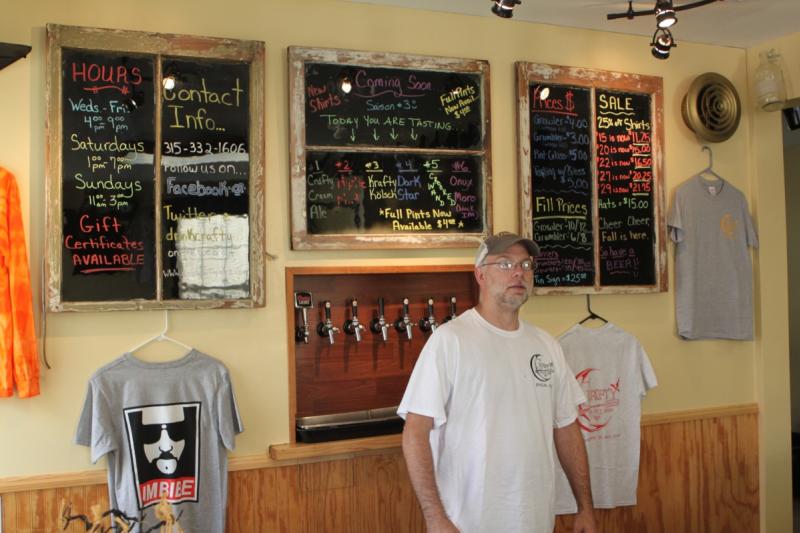 Here is Crafty Ales owner and brewer, Mike Darling. 
But beyond just loving the food, it was the company that made the evening so much fun. Everyone was glad to see the "tourism people" as we are often called when we move in packs. It was fun to see representatives of these tourism attractions and places:  Bette Collier and her husband Gary from the Phelps Chamber; Sarah Hamilton and her friend, Andy, who are very active in the Ontario County Fair and the Business Improvement District; and Carl and Peg Carlson from Cheerful Valley Campground; and of course our wonderful hosts from Fat Boys and Jennie Darling from Crafty Ales. 
Adding to the evening's joy: two of our Visitors Connection team actually won door prizes. Wooo Hooo!
But, back to the Crafty Ales – the star of the evening. The team rose to the sampling and enjoyed the fact that every night is Halloween night at the Brewery. Listen to these spooky names for the beers: Misty & Mild, Poltergeist, Monster Mash and Mad Jack.
The grand finale for the night was when the staff members won the prizes. But that is not why we look forward to hanging out in Phelps again soon. What made it a great evening was that everything came together on the spur of the moment, and it was so much fun.
Ontario County visitors and residents, we want to challenge you to go to Phelps, and find out for yourself what Finger Lakes nightlife can be like.