When you live in and love a really wonderful place such as Ontario County (specifically speaking) and the Finger Lakes (regionally speaking), you assume you know just about everything you need to know to be a good tour guide.
But when 61 curious and savvy travel writers descend on your turf, which is exactly what happened May 5-10 when the Finger Lakes Visitors Connection hosted the Midwest Travel Writers Association Conference, questions come up that sometimes make you scratch your head and run for the Internet. Or dictionary. Or some kind of reliable fountain of facts.
To the seekers of FLX knowledge, we now have answers! A few, anyway. 
Q: The Finger Lakes is all about wine. You must grow a lot of grapes in Ontario County, right?
A: Oh savvy traveler, agriculture and farming are a big part of our economy and culture in Ontario County. About 46 percent of our 644 square miles is used for farming, according to 2012 U.S. Department of Agriculture census figures.
To answer the grape question, the southern, hillier part of our county, in and around Naples and Bristol, is where most of our grapes are grown. Historically, these hillside vineyards were abundant with native grape varieties such as Catawba and Concords. Nowadays, they are also full of European vinifera and hybrids.
Ontario County is blessed with a lot of prime soils for farming, and in the flatter terrain in the county's north, the majority of the acreage is devoted to dairy cows and the crops that support them, such as corn, soybeans and wheat. Livestock and hay are other big commodities.

After all that milk and moo, our farmers are really into vegetables, especially cabbage, which is why Phelps can lay claim to being the Sauerkraut Capitol of the World.  Phelps no longer has a sauerkraut factory (there is one in nearby Shortsville), but it still knows how to throw a festival in honor of fermented cabbage.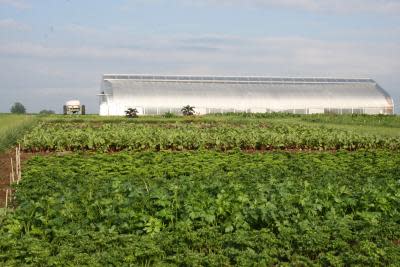 Ontario County also grows a good amount of apples, peaches, apricots, pears and other fruit trees, and the biggest operator within our county borders is Red Jacket Orchards.
Diversity is one of our best assets as far as agriculture is concerned, and Ontario County also produces nursery and greenhouse plants, livestock, hay, maple, Christmas trees, hops (for our local breweries), nursery plantings, mushrooms.
Q: What is Cornell Chicken?
A: Cornell chicken is an upstate specialty. Pennsylvania State University poultry and food science professor Robert Baker wanted to help farmers sell more chicken faster and cheaper, so he needed to come up with a way for Americans to develop a taste for smaller birds. He created a special marinade with cider vinegar and egg (Baker never figured out which came first, chicken or egg?), and developed a grilling technique that places small half-chickens on grates over a charcoal fire. 
The barbecue recipe didn't catch on until he joined the faculty at Cornell University in the late 1950s, where it got its name.
Baker and his family started selling Cornell chicken at the New York State Fair near Syracuse in 1960s. The chicken is served with another upstate New York favorite, salt potatoes.
Baker, who is also famous for inventing chicken nuggets, died in 2006, but his daughters continue the tradition at the state fair.
Q: Susan B. Anthony was arrested for voting in the presidential election in 1872. Her trial took place in Canandaigua in 1873 (at the Ontario County Court House, pictured here). For whom did she vote?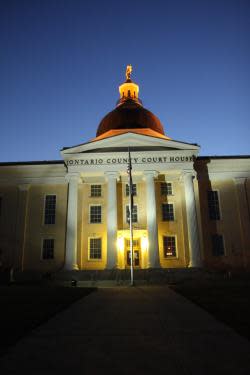 A: Anthony cast her ballot for Ulysses S. Grant as well as all the other Republican candidates. Grant beat his Democratic opponent, Horace Greeley, with 81 percent of the electoral vote and 55.6 percent of the popular vote.
Stay tuned for more FLX FAQs soon!