School is out and summer has officially started! With each day filled with warm weather, there are so many things I look forward to in the summer. Bonfires with my friends by the lakeside while we're roasting marshmallows to that perfect golden brown for s'mores. Summer is everywhere, its in the taste of smores, the cool breeze off the lake, the burgers on the grill, the trees overflowing with green leaves. Its even in your friends smiles as you stroll together through a beautiful and shady walking trail.
Last week, my friends from college and I met up and took an afternoon trip up to enjoy Canandaigua Lake. We met and hopped on our friend's boat, who took us for a cruise around the lake. One of my favorite things about the "Lake Life" in the summer is the deep feeling of relaxation, like there is no need to be anywhere but exactly right there in that moment of sun and water and my friends laughter. If you are interested in renting a boat, check out Seager Marine on Canandaigua Lake, or Sail Seneca if you are in Geneva. Speaking of sailing, Daydream Sailing can teach you how! Learn how to sail with a team of seasoned professionals who will make sure you are right in the middle of the action. If you still want to be on the water, but looking for a more laidback tour, check out the Canandaigua Lady, a 19th Century replica of a double decker paddleboard boat cruise on Canandaigua Lake for an afternoon or dinner ride. 
If I'm not jumping in at the Lake with my friends, I'm checking out the local restaurants and bars that give Canandaigua its lively social presence, especially in the summer. I recently tried out the new bar and restaurant at Hotel Canandaigua and enjoyed a few refreshing drinks with my coworkers. The food and drink there does not disappoint, especially with the view of Canandaigua Lake sprawling out in front of you.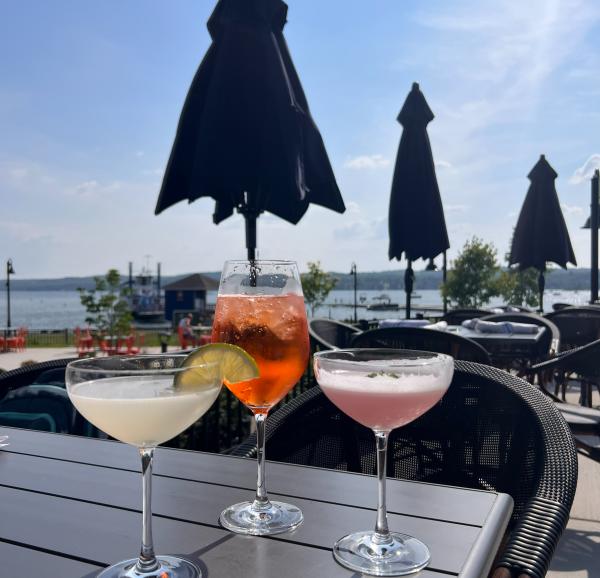 Another can't miss summer spot is Naples, located on the southern tip of Canandaigua Lake. I remember the first time I took in the view at Carolabarb Park, an overlook spot of the lake and rolling hills, I was blown away by its beauty. Right down the road from that overlook is the town of Naples, filled with its own tapestry of Finger Lake Gems. Head down the road to Inspire Moore Winery and Roots Cafe, where you can find meals full of delicious locally sourced ingredients. End the day on Inspire Moore's beautiful summer patio that overlooks the hills and vineyards, with a delicious tasting of Inspire Moore Wines that are grown on-site. 
If you are looking to hear some live music, head over to Lincoln Hill Farms in Canandaigua. On a typical night, Lincoln Hill Farms has a full bar and on-site dining options with live music on the stage, and is open to the public for admission. Most events are ticketed. They also have free Sunday Fun Days in July and are opening up on Thursday nights in August for live, local music. Special events are what excites many visitors - from the Brewfest in August to Joan Osborne covering the Grateful Dead to a Halloween festival that features an interactive hayride and black light zombie hunt. 
Great food, friendly people, and special trips to get ice cream at Shark's in Bloomfeild are the perfect end to my ideal summer days. These are just a few of the things I get excited about doing in the Finger Lakes in the summertime, but there is always more to explore!