If nothing warms your heart more than a diner breakfast with endless java refills served in heavy, chunky, cream-colored vessels, then there is a good chance you have already been sipping from the cup of Finger Lakes industrial history.
Let me formally introduce you to the Victor china coffee mug, a 20th century American icon that has become a collector's item on eBay and Amazon and at antique shops and garage sales all over the country. How do you know you have the real deal? Turn the mug over, and you should see the word "Victor" stamped on the bottom. Some mugs might also say "Made in the USA."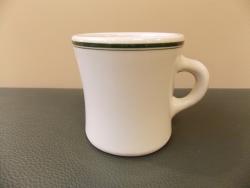 For decades, the original Victor mug was made at Victor Insulators in Victor, right here in Ontario County.
Victor Insulators makes high voltage insulators, and has been doing so since 1893 when a local inventor named Fred M. Locke patented a formula for wet process porcelain that could withstand high voltage. Locke, who goes down in history as the Father of the Porcelain Insulator, opened the Fred M. Locke Company in Victor that same year (the company later changed its name to Victor Insulators). The factory manufactured sturdy porcelain insulators for telegraph lines. These insulators were so resistant to heat and weather that they became a game changer for the electrical industry.
Victor Insulators made nothing but insulators until the call of duty came their way. In the early years of World War II, the U.S. military solicited American manufacturers to come up with a coffee cup (and other dishware) that would not tip on board Navy ships sailing through choppy waters and could weather the rough handling of Army troops. How could brave American men and women be expected to serve their country without being served good coffee in strong mugs, after all?
Victor Insulators came to the rescue, creating a heavy-duty cup out of the same raw materials as was used for its insulators. The porcelain's heat-retaining feature was a huge part of the mug's success, as was its skid-resistant bottom edge, which kept the cup from sliding off the table. Another brilliant quality was its nearly indestructible thickness and heft. The mug could withstand falls with barely a nick or scratch. 
Chinaware production helped keep employment rolls steady at Victor Insulators during wartime ebbs and flows, and continued after the war, as restaurants (especially diners) became big customers. Over the years, there were variations in color and design, but the practical qualities of the Victor mug (heat retention, sturdiness, non-skid bottom) were a constant. By the 1980s, however, Chinese-made knock-offs infiltrated the U.S. market, selling at a cost that Victor Insulators could not compete with. Sadly, the last production run for the Victor mug was in 1987.
Still, these mugs live on, and often pop up at antique shops in Ontario County. Even if you don't find a Victor mug, you are bound to come across another treasure that is just begging to go home with you.