As a recent first-time visitor to the Finger Lakes region, I figured a week should have been plenty of time to see and do pretty much everything. Boy, was I wrong.
I didn't know a lot about the area before my arrival, so made sure I requested a lovely packet of information from the Finger Lakes Visitors Connection. Even all those goodies didn't prepare me for traveling the back roads and ins and outs of this amazing area. So I snagged the services of a local resident and lover of Ontario County to be my guide. Smart choice as we visited everything, starting with an amazing dinner and wine tasting at the New York Wine and Culinary Center's Upstairs Bistro where we could sip great Finger Lakes wine while watching a thunder and lightning storm roll across Canandaigua Lake toward us. Good thing we got in a walk around the charming boat houses along the lakefront first.
We spent one day stopping at the small roadside cemeteries to visit lives that dated before the Revolutionary War and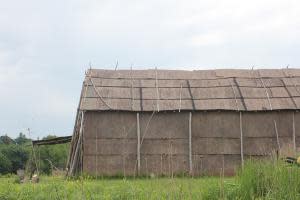 spent not nearly enough time at Ganondagan State Historic Site near Victor. Here the guide, Tonia and one of their newest interns, Paige, shared not only insights into the Haudenosaunee (Iroquois) life of the 17th century but also what it means to be Native American in today's world. The amazingly recreated bark longhouse is chock full of fascinating items bringing Seneca day-to-day practices from 1655 alive. I regret that I won't be around to celebrate the "Encounter with LaSalle" reenactment event that's held every autumn for an even deeper historical experience.
I knew that the Finger Lakes area was renowned for its wines, but I didn't expect to discover Naked Dove, a local brewery that distributes their brews in only a thirty-mile radius of its location on State Rtes 5 and 20. Not only do they have a great brew sample experience (where you get to keep your glass) but some wonderful gift items, too.
Two other culinary delights were a visit to Simply Crepes in downtown Canandaigua where it's hard to not only narrow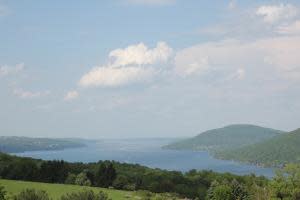 down your main crepe choice but to save room for a dessert crepe, too! Be sure and visit their restroom while you're there as it's a surprising treat by itself. Then, only a few doors down the street is Sweet Expressions.  Even for a non-chocoholic there are enough goodies in this lovely spot that I dare you to come out without something for yourself and friends. I know I didn't!
There was so much more to do and see—a tour through Naples, the County Road 12 overlook near Bristol, the Wizard of Clay Pottery studio; I now know a week was not nearly enough time to see and do everything there is to experience in the Finger Lakes area!