Though well-known to locals, those visiting the Finger Lakes may be wondering what this slice of peculiar purple pie is, and it would be a shame to miss out on it! An essential part of every Thanksgiving dinner or celebratory family gathering, pies bring people together. Everyone has a favorite, but bring this pie to your next family event, and you'll have the most unique pie of all. 
Sweet, fruity, and with a crumbly crust, this tasty Finger Lakes treat, a local specialty of the Town of Naples, is known as the Grape pie! It's very similar to a cherry pie, if you replace the cherries with grapes. The process of making a grape pie is a very long process with many steps. Every pie maker's version of this recipe is slightly different, although the pies historic roots can be traced back to the heritage of German immigrants who once settled in the Finger Lakes.
To make a pie filling takes many Concord grapes which need to be skinned cooking and separated from the seeds before the filling is added to the crust and baked. If you want to make a grape pie of your own, some Finger Lakes retailers make and sell their own grape pie filling. The best place to look are businesses around the town of Naples, the Grape Pie Capitol of the World. Each year Naples hosts the Naples Grape Festival, a weekend-long celebration of the grape harvest and all manner of grape-y goods, especially grape pie. There is an annual contest, judged by citizens of the town, to see who can make the best grape pie.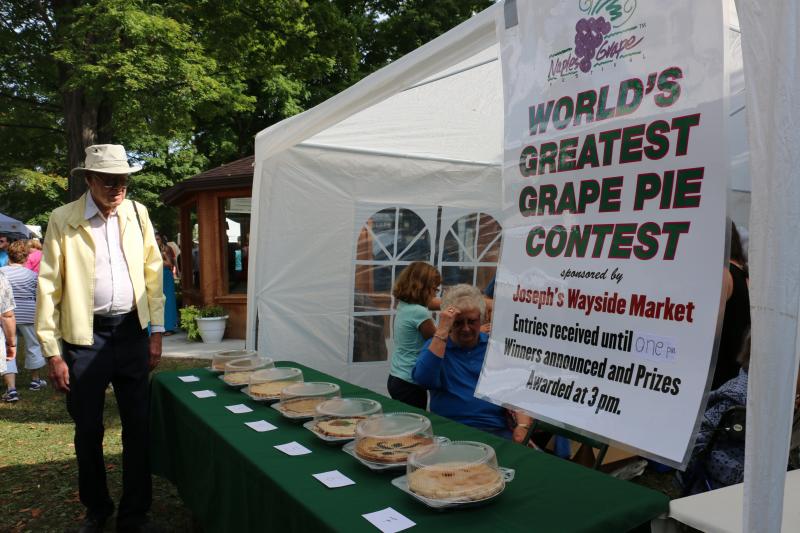 If you want a taste of this one-of-a-kind Finger Lakes specialty, pies can be found or at these Finger Lakes must-sees as well as at the festival in September:

Arbor Hill Grapery & Winery - Not only does Arbor Hill carry grape pies, you can also find grape licorice twists, grape tarts, and a variety of Arbor Hill gourmet food products and wines! This is a must visit for self-proclaimed foodies. 
Cheshire Farms Creamery - In addition to grape pie, the Cheshire Farms Creamery offers light lunches, baked goods, coffee, and delicious, homemade ice cream. A favorite spot for friends and families.  

Cindy's Pies - Cindy's Pies is an experience in itself! Step up to Cindy's house and ring the bell. She and her family will greet you at their Dutch door and serve you right from their home. They make a variety of pies as well as grape-filled cookies.
 
The New York Wine & Culinary Center - Here you can take a cooking class, watch a chef demonstration, and have a tasty meal. They sometimes carry grape pie for dessert. If you're looking to taste just a slice, call ahead to check if grape pies are available.
Monica's Pies - If you're ready to have a whole pie shipped right to your door, Monica and her pie team are here to fill that need. Monica's Pie Barn is an iconic sight in the Naples area, and, in addition to grape pies, Monica bakes more than 25 different varieties of pie. Some of the most popular pies are Apple Cranberry Nut, Cherry Crumb, and Chocolate Cream (to name a few).