Unique to the Finger Lakes, Grape Pies were created in the 1950s and credited to long time Naples, NY resident Irene Bouchard.  Best made with grapes freshly picked in the late summer and early fall, the rich purple color and texture reminds me a bit of blueberry pie, only better. Once you bite into a slice of this deliciously juicy, sweet but tart pie you are sure to crave a whole pie! 
When it comes to comfort food, few baked goods rival the pie and when the ingredients are locally sourced and house made (yours or someone else's) they are the perfect complement to any family gathering, and the unique and delicious grape pie is a complete showstopper!
So back to the story…….
Ever since Irene Bouchard came up with this wonderful concoction, the Town of Naples, NY has become known far and wide for this local specialty and has been dubbed the "Grape Pie Capitol of the World."  Each year, this picturesque small town hosts the Naples Grape Festival, a weekend-long celebration of the grape harvest and everything grape related, especially their famous grape pie.  The festival includes "The World's Greatest Grape Pie Contest" and the competition is tough for the coveted title of "World's Greatest Grape Pie." This year, the Festival will be held September 24-25, 2022 and includes arts & crafts, local and regional cuisine, a wine and craft beverage garden, music, and of course the famous pie contest.
The process of making grape pie is a long one with many steps and every pie maker's version of the recipe is slightly different. If you ask around, you'll find that many recipes are "secret." The pie filling is usually made with Concord grapes which need to be skinned and separated from the seeds before the filling is added to the crust and baked.  Die-hards who want the most authentic grape pie can pick their own grapes at Jerome's U-Pick Farm in Naples. If you want to simplify the process, some Finger Lakes retailers make and sell their own grape pie filling.  Arbor Hill's Healthy Purple Grape Pie Topping and Filling is readily available and is perfect for filling kuchens, strudels, coffee cakes, and of course grape pie. It's also a wonderful topping for ice cream and cheesecake. The ingredients are simply Concord grapes, sugar, tapioca, and lemon juice.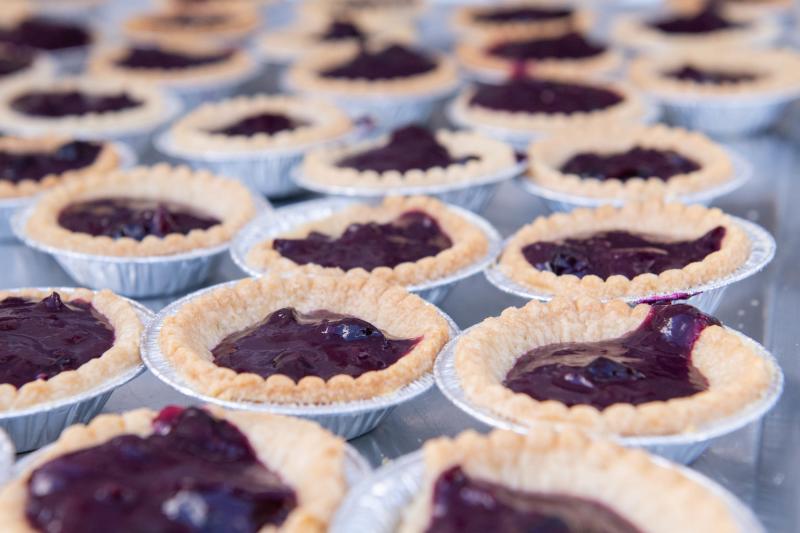 If you want to take the easy way out, buying a pie at the Festival or from any one of these fine establishments is the way to go.  You might want to buy several and do your own tasting.  You can also stock up on pies as they can be easily frozen to enjoy throughout the year.
Arbor Hill Grapery & Winery -Not only does Arbor Hill carry grape pies, but you can also find grape gummy bears, grape tarts, Healthy Grape Pie Topping & Filling, and a variety of other gourmet products and wines.
Cheshire Farms Creamery - Try their house made grape pies with a scoop of home churned ice cream!
Cindy's Pies - Cindy's Pies is open year-round; just step up to her house, ring the bell, and Cindy will greet you at her Dutch Door.  Grape pies, grape tarts, grape filled cookies, and other home baked goods are available.  Check out her Facebook page for seasonal hours and menus.
Monica's Pies - Yes, Monica has decided to close her pie shop and retire after 40 years of serving her delicious grape pies, BUT SHE WILL BE OPEN FOR GRAPE FESTIVAL WEEKEND.  Don't miss this opportunity to visit Monica's iconic Pie Barn and buy a pie or two.
Jeni's Pies - Three-time winner of the Naples Grape Festival's World's Greatest Grape Pie Contest, Jeni's pies are available at Joseph's Wayside Market.  Jeni's grape monkey bread is also available on weekends.
Who bakes your favorite grape pie?  Take a photo and tag us @VISITFLX and #FLXperience!