One of my favorite things to do spring, summer and fall is to pack up my painting gear and meet up with my friend and artistic guru, Cindy Harris somewhere in the Finger Lakes to paint en Plein Air. En Plein Air, literally "in the open" was the practice of choice for 19th century Impressionists and is experiencing a huge resurgence among both amateur and trained artists.
The Finger Lakes' natural beauty has been inspiring plein air artists for generations, but it was a new experience for me ( a painting "hobbyist") and now it is my favorite way to paint. Wineries, parks, downtown streets, historic buildings, lakes and waterways all beckon artists to pick up their brushes and paint colorful scenes. With plein air there is a freshness as the artist only has so much time to complete their work, resulting in each painting having its own verve and personality.
As soon as we set up our easels, Cindy and I almost always run into people, often visitors, who are curious about what we are doing as they timidly ask if they can watch us "in action." We aways take these opportunities to talk about our beloved Finger Lakes that we are so grateful to call home.
Here are a few of our favorite spots to paint plein air but you don't need to be an artist to enjoy the color, light, fragrance, and beauty of these special places.
Geneva, NY (you might think you are in Geneva, Switzerland)!
BILLSBORO WINERY
A century old barn sitting on an idyllic 60 acres overlooking the northern end of Seneca Lake. Surrounded by century-old walnut trees, terraced fields and a deep wooded ravine, this winery is an ideal spot for plein air painting!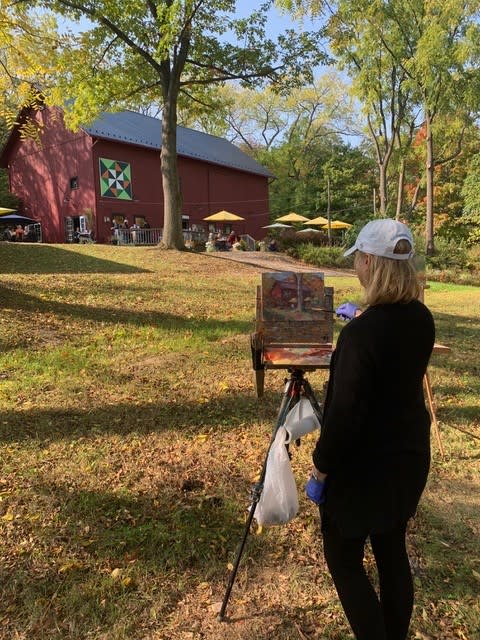 BELHURST CASTLE
Voted one of the most romantic places in New York State, Belhurst Castle will make you feel like you've travelled to Europe, possibly because many of the materials used to build and furnish the castle were imported from Europe.The Castle with its distinctive turret, lush gardens, fountain and expansive views of Seneca Lake are incredible plein air subjects.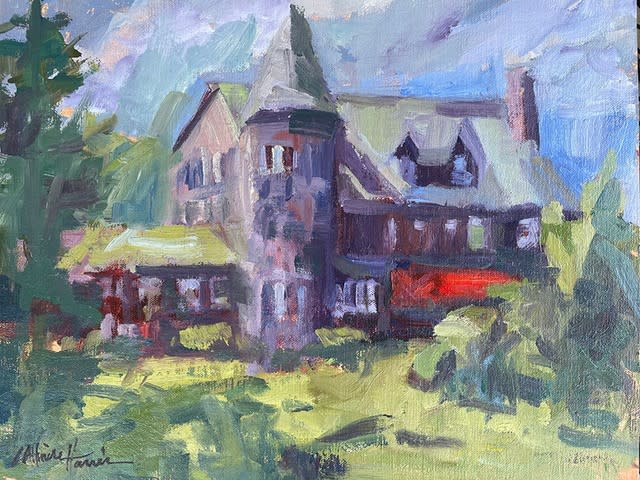 GENEVA ROW HOUSES
Located on South Main Street, these colorful terrace houses with postage stamp gardens transported me back to the years I lived in London. The color, the architecture, and the history of these houses built between 1808 and 1820 is unexpected and delightful. Originally, the houses served as shops with living quarters above them. Today, they are single family homes, apartments and Airbnbs with stunning views of Seneca Lake on one side and Pulteney Park on the other. What we really like about painting the row houses are the vibrant colors and unique architecture that make interesting compositions any time of year.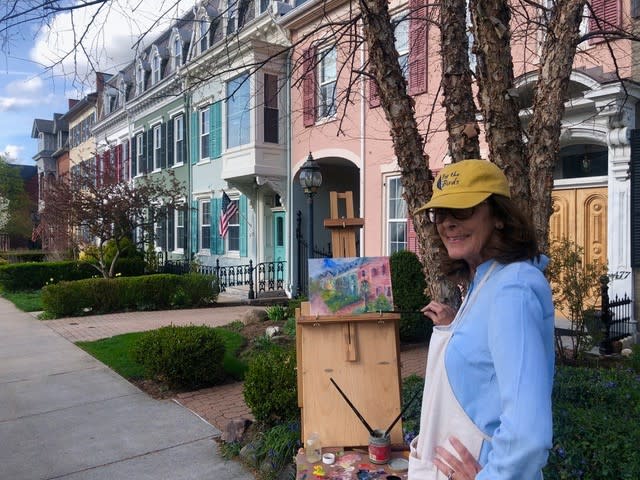 PULTENEY PARK
I was fascinated by the "Our Lady of Peace" statue that sits in the middle of this little gem of a park across from the historic row houses. "Our Lady" has an unobstructed view of the lake that is otherwise shielded by the row houses. Legend has it that three different buildings once stood in the gap between the colorful row houses and each one burned down, leaving "Our Lady" once again with an awesome view of Seneca Lake. I just had to paint a lady that had that much power and influence! Time your visit in late April or early May and a gorgeous bed of fiery red tulips and yellow daffodils make a stunning carpet in front of the statue.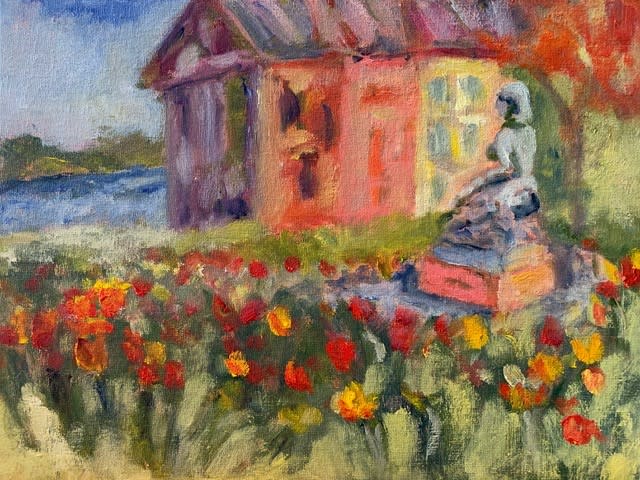 IRIS COUNTRY GARDEN
Hidden in the farmlands between Seneca and Canandaigua Lakes this iris and peony garden is bursting with flowers during May and June and bordered by red barns and a potting shed that all make you feel like you've stepped into a storybook garden. This is truly an extraordinary place for plein air painters and the Martin sisters who own the property, and their beautiful children, are charming hosts.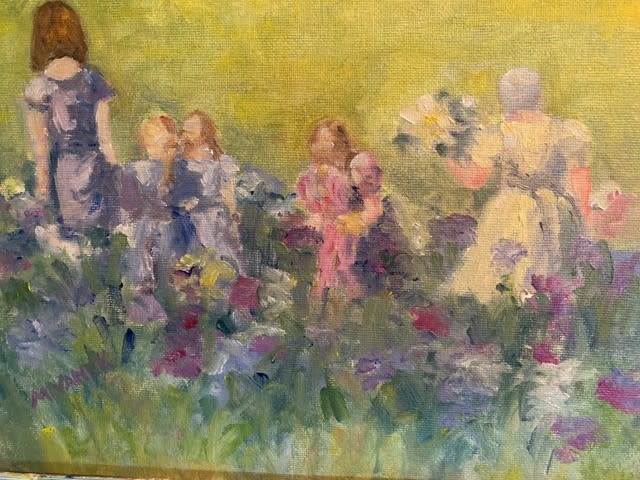 Other nearby Plein Air spots 
Driving east or west from Geneva there are plenty of other spots for plein air painting, some well known and others hidden gems. To the West, in Canandaigua, the flower-filled public gardens at Sonnenberg Gardens and the historic boathouses on the Canandaigua City Pier are popular spots for plein air painting. To the East, the barn at Muranda Cheese in Waterloo and scenes along the Erie Canal in Seneca Falls are beautiful as well. Further east, on Route 20 between Auburn and Skaneateles, visit the sunflower maze at Strawberry Fields Hydroponic Farm for an explosion of color that will fill your canvas.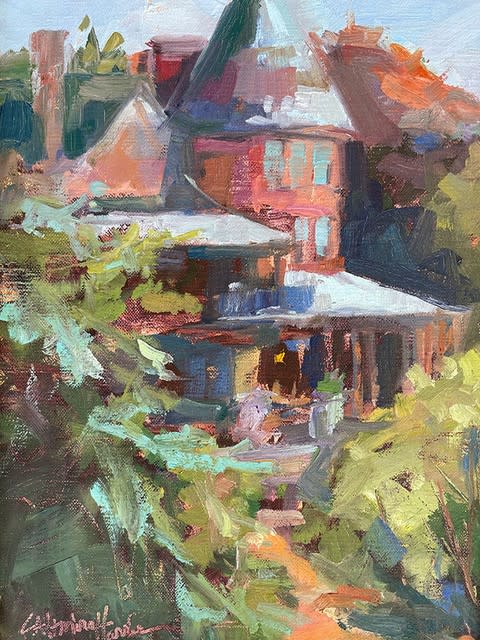 To view and/or purchase plein air paintings, I would recommend the Pat Rini Rohrer Gallery located in the heart of Canandaigua's historic downtown. The gallery features an outstanding collection of original art created by artists from the Finger Lakes region. The gallery also offers classes if you want to try your hand at or fine tune your plein air painting skills.