When you open up a craft brewery in the sauerkraut capital of the world, at some point, the local sauerkraut cheerleading squad will come knocking at your door.
That is exactly what happened to Mike Darling last year, just two weeks before the annual Phelps Sauerkraut Weekend. This year's festival of fermented cabbage runs Friday, July 31 through Sunday, Aug. 2 in various locations in downtown Phelps.
Mike is the head brewmaster, keg washer and CMO (Chief Mop Operator) of Crafty Ales & Lagers, a nano-brewery that opened in 2013.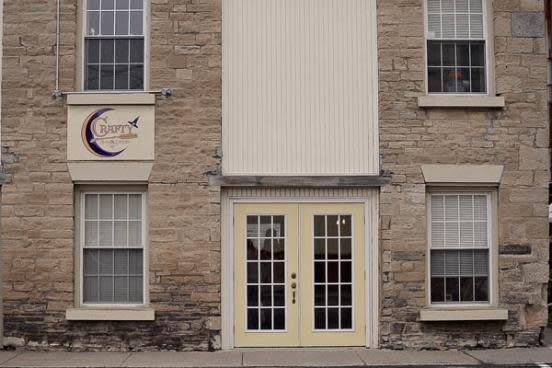 Mike makes beers that are a little out of the ordinary. Crafty Cream Ale, for example, is a honey cream ale made with honey from a Phelps beekeeper. Onyx Moro is a bewitching black IPA that is milder that you would expect.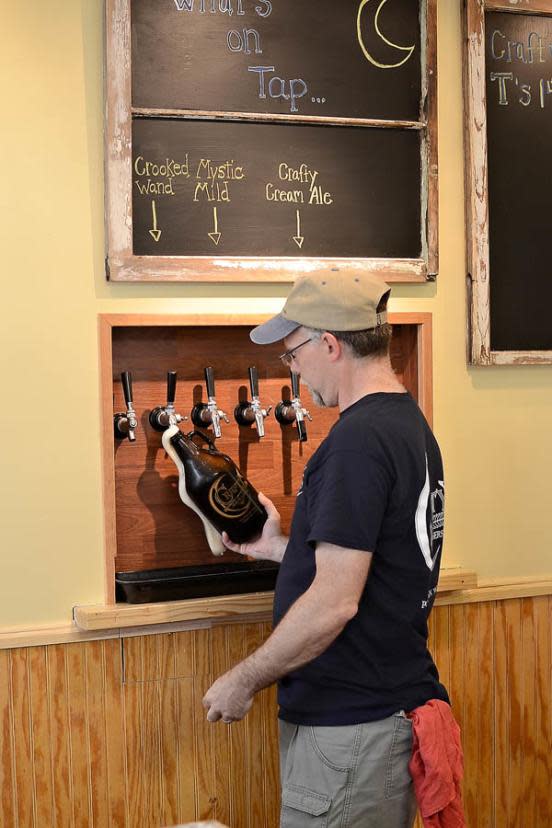 So why was he initially on the fence about the idea of a sauerkraut beer?
As he explained to me one happy hour earlier this month, he prefers his sauerkraut on the plate, next to the pork, rather than in his beer. 
He fended off the Phelps Sauerkraut Weekend committee with the excuse that two weeks was not enough time to make a decent kraut beer. He was secretly hoping the committee would forget this year. 
Instead, the request came in extra early. 
"I decided to give it a shot," he writes in an email.
Mike is making the festival beer in a style called Gose, a German sour ale brewed with salt. The salt here is the brine of the fermented cabbage, not the cabbage itself. The brand, for those kraut connoisseurs who must know, is Silver Floss, a name that has a long history in Phelps.
He is putting a "Reuben" spin on it by adding some malted rye and caraway seeds along with the sauerkraut brine.
The results so far?
As of this weekend, Mike is "pleasantly surprised" but to get the full sourness, he will be adding a souring agent before kegging.
The hype around the sauerkraut beer is palpable, says Sarah Hamilton, the executive director of the Phelps Business Development and Tourism Council who oversees the Sauerkraut Weekend committee.
Crafty Ales & Lagers will be including the sauerkraut beer in its $5 tastings starting Friday, July 31. Mike only made 10 gallons, so it could run out quickly. (No wonder Crafty Ales & Lagers calls itself a nano-brewery.)
It will also be part of the Sauerkraut Weekend's wine walk on Friday evening.
Long before the Finger Lakes was known for wine or sauerkraut, it was a powerhouse for hops production, notes Sarah. Sauerkraut Weekend organizers want to celebrate that renaissance of hops production in New York, and pair it with, what else but sauerkraut.
The beer will likely make it to the national spotlight as a crew from NBC's Today show will be filming a segment on Saturday, Sarah adds.
This is the first year that Phelps Sauerkraut Weekend has a sauerkraut beer to boast, though national publicity is nearly par for the course. The event is once again among Fox News' list of Top 7 Unique Food Festivals. It also made USAToday's list of strangest food festivals earlier this year.  
"For a small grassroots festival we have gotten a lot of national press," says Sarah.
Of course, if you don't drink beer, there is lots of other great fun to be had at the festival.
And if you need a time out, stop by Crafty Ales & Lagers at 2 Exchange Street in Phelps. 
Hours are 3 to 9 p.m. Friday, 11 am. to 7 p.m. Saturday and 11 a.m. to 3 p.m. Sunday.