Shopping in Canandaigua, in the heart of the Finger Lakes, is a wonderful experience!  As first time visitors from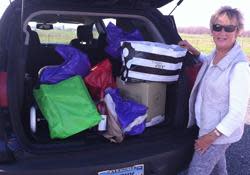 Connecticut to this charming town, we were delighted to spend a few hours walking around Main Street while we waited for our friend to get out of work.  We are known by our family and friends as shopaholics, and as you'll see, the moniker fits.  Fortunately for us, there are plenty of places in the area to satisfy our shopping needs.
When we came into town, Renaissance/The Goodie II Shoppe attracted us first. We escaped this lovely boutique with a payout of less than $300... a hard feat to do with such a unique assortment of treasures. When our friend arrived, we begrudgingly left for dinner at Eric's Office with our promise to the shopkeeper that we would return.  Not knowing what "Eric's Office" was, we were concerned that we were going to have dinner at the office of someone by the name of Eric. We were delighted to find that dinner was at a wonderful local restaurant with a wide variety of selections that would please anyone. We didn't miss a thing; our table shared two huge appetizers, some of us had the homemade cheeseburger soup, we each selected a meal (each plentiful enough to feed two people!), then of course, we topped it off with fabulous freshly-made desserts.
The next day, our gracious hostess had to work but only for a few hours. That gave the two of us some time to explore on our own. She recommended that we try Lafayette's Restaurant for breakfast.  It was delicious, reasonably priced and offered a full breakfast menu.  Since we had to kill time after breakfast while we waited for the stores to open, Joyce also squeezed in a manicure at the nail salon next door.
Next, we headed toward Main Street to further explore the many shops there. But, best-laid plans are easily changed. On the way to the Main Street shops, Joyce's trained Chevy Traverse took control of the steering wheel and pulled into TJ MAXX.  To our surprise, the store more than equaled the five that are within a 15-mile radius of our homes.
After picking up our hostess at noon, we headed for lunch at Simply Crepes, which was anything but simple! We decided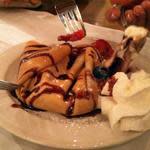 to share three different crepes since everything on the menu looked delicious. As we were leaving, our server, Nicholas, invited us to come back again. We told him, as a matter of fact, we wanted to come back for dinner that night and asked him to make a reservation. Yes, it was that good!
As soon as we were out the restaurant door, we stopped to assess the situation. How much more could we put on our charge cards?  We threw caution to the wind - we were off to find out. For the next stop, Nana and Grandma had to see if Unique Toys were really unique. To answer that question: we left the store carrying several large packages, at which time we also decided that we are the best grandmothers ever!
Walking along Main Street, we peeked in antique and country stores and wound up in Expressions in Needleart where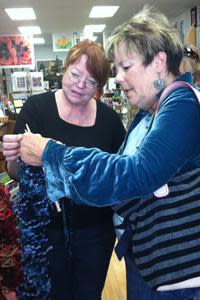 Joyce purchased incredible unusual yarn to make scarves. Although Marcia is not a knitter, would you believe she found yet another pocketbook for herself in a yarn store?
When we stepped out onto the sidewalk, we thought we were through for the day until we looked up the street. Lo and behold, there was a store we'd missed! Being equal opportunity shoppers, we felt we had no choice but to check out this store, too. We didn't want to miss anything!
We trucked up the street to the clothing boutique Country Ewe. We were like kids in a candy store! Who wouldn't love shopping in a store with quality clothes with a designer flare? As we grabbed jackets and sweaters, we weaved our way from one side of the store to the other, stopping occasionally to try on accessories to go with the beautiful teal jacket Marcia purchased to wear for the holidays.
Our day was winding down, but there was one more stop for that day. Joyce's husband back in Connecticut had instructed her to hunt down a case of Salmon Run Riesling, and she knew she better not go home without it. So, with that in mind, we headed up to the Finger Lakes Wine Center at Sonnenberg Gardens where Marcia partook in a wine tasting so she could select her own Finger Lakes wine to take home. Success – for both of us!
At that point, it dawned on us that although we were having fun shopping, we also needed to take time to enjoy the Finger Lakes scenery at its finest. A drive along the lake was the perfect way to wind down after a busy day. There was still enough foliage clinging to the trees to make the hills surrounding Canandaigua Lake look like they'd been painted in orange hues. Our best view came from the County Road 12 Overlook between Naples and Bristol. Even without the sun shining and fog hanging over the lake, the view was stunning.
On our agenda for our last full day was a quick side trip to Penn Yan, located on one of the northern tips of Keuka Lake.  We had lunch with Jeff, the owner of Birkett Mills, and learned about a unique crop grown in this region: buckwheat, which is good for gluten-free diets.  We picked up a few bags of pancake mix and kasha, eager to use them with our new book of recipes Jeff gave us. We had heard that no visit to Penn Yan is complete without a stop at the iconic Seneca Farms ice cream store. Even though we weren't hungry at all, we had to find room to enjoy the homemade ice cream and custard. It was well worth the stop!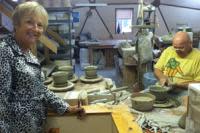 Heading over the hills, our final must-see shop was Wizard of Clay in Bristol. We'd seen some pieces that our hostess had purchased there.  They were lovely, making us dream of owning some ourselves. An informative and interesting aspect of our visit was that we got to see Jim Kozlowski at work at his potter's wheel. We learned that this year marked his 50th year as a potter! As Joyce's husband always says, she can't go into a shop without leaving with something. Not wanting to prove him wrong, she purchased a lovely Crystalline vase that will look perfect in her dining room. Mission accomplished! Marcia, not to be outdone, came away with more Christmas presents.
To round out the trip, we actually stopped at a grocery store to shop. But, this wasn't just any grocery store: it was Wegmans. This store has more than groceries. One whole section of the store is a café where the lunch and dinner options are beyond compare. From subs to specialty salads to international foods, you can put together a meal and sit down and eat in their nicely decorated dining area. In the center of the store, are several aisles with non-grocery items for sale, from cooking utensils to books, cards and gifts. We were told that Alec Baldwin's mother didn't want to move away from the central New York area because she would miss Wegmans. Now we see why!
We realized a few days in the area are not enough to take in everything that is offered. The Finger Lakes region is simply beautiful…a photographer's (and a shopper's!) paradise. We've already started talking about our next trip back. Maybe  we will bring our husbands… then again, maybe not!