Imagine if the headlines read: Horseless Carriages Make a Comeback in the Finger Lakes. With the high prices of gas these days, maybe the idea of going back to those earlier machines is appealing. And if you want to take that daydreaming just a bit further, there's an opportunity in Ontario County every year for you to step back in time to when the horseless carriages were big news. All you would have to do is head over to Bloomfield Town Square on Routes 5 & 20 when the Horseless Carriage Club of America (HCCA) brings their Pre-1916 Auto Meet to town.
This annual event draws some of the sweetest antique cars you will ever see. Howard Sharp, the local contact for the HCCA regional groups, not only talks the talk, he walks the walk.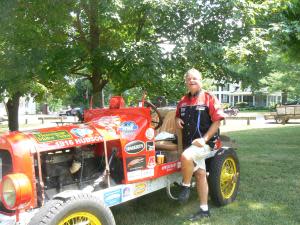 He and his son, Doug, were the 2011 GREAT RACE Grand Champions. Their 1916 Hudson Pikes Peak Hillclimber is restored to perfection, but that's not surprising. One of the things I've learned from attending this show, and others in the past, is that car collectors are passionate about their "babies".
My first opportunity to get a peek into this antique car world was back in 2004 when Canandaigua was host to the HCCA tour. Three years later I met Pat Thorpe, a man who had a dream to bring the Antique Automobile Club of America (AACA), a national meet, to the area. As a member of Genesee Valley Antique Car Society (GVACS), Pat was the chairperson charged with organizing a meet. That may not sound like a big deal, but convincing hundreds of antique car owners to travel all the way across the U.S. takes a lot of work. It took two and a half years of us planning (you know the fun of filling out form, after form, after form), but in the end, the event was a huge success. 474 antique car owners from across the country brought their gorgeous cars and trucks to show off. That meant that thousands of people discovered our beautiful Finger Lakes area as a result of this show. As someone in the tourism industry promoting our area, you can imagine the smile that brought to my lips!
These antique car auto meets are a super way to showcase our region for this niche group. Many of them travel all around the country showing off their cars. Well, we're happy to have them come to Ontario County so we can show off what we have and love here. This area lends itself to being a spectacular venue for these enthusiasts because our roads are not congested like city streets would be, we have the scenic drive along Routes 5&20 and the meandering back roads through the rolling hills above the lakes with postcard perfect vistas.
The drive along 5 & 20 is actually how many people discovered the HCCA meet at the Bloomfield Town Square Park. Like me, they we were driving along and were drawn to the collection of antique cars in the grassy park setting. This meet was a step back in time in so many ways. Of course, it starts with the cars that looked like they had been driven right out of the old time movies, and they are the reason for the gathering, but the old cars are only part of the ambience.
There was so much about this venue that relaxed me and made me feel like I had time traveled. I was struck by how many different generations mingled and enjoyed this event. From young children to senior citizens, there was an appeal that effortlessly crossed age boundaries. Some people had even spread out blankets and were having picnics like I could imagine happened in this square at the turn of the 20th century. To add to the nostalgic feel, some of the exhibitors were dressed in period costume that appropriately reflected the year of their car.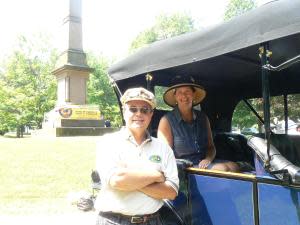 Long-time friends I met through the HCCA, Nancy and Jerry Huffman and Pam and Steve Heald often wear period clothing when showing their cars. And their cars are breathtaking pieces of art. Pam and Steve have explained the painstaking process of restoring a car to its original state. The first step in restoration is research and learning which parts to use. And not just any part will suffice. Their passion shows in the details resulting from their research: paint is authentic for the time period, car parts, upholstery and accessories are all what would have been used originally. All of this takes time and love, resulting in cars these owners are proud to show off and people like me appreciate and admire.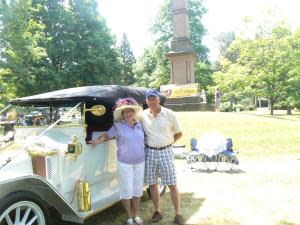 The Pre-1916 Auto Meet was a treat in itself, but add to that the other amenities that were available and this is a not-to-be-missed event. The Bloomfield Historical Society provided a chicken BBQ that is a hallmark of the Finger Lakes area. Go ahead and go anywhere else in the world and see if you get BBQ chicken as finger lickin' good as this. Whatever their secret recipe is for marinating their chicken, it works because the crowds couldn't resist, and word of mouth at the meet kept people joining the concession booth line.
The strawberry shortcake and pie booth was also popular. It was the end of the season for New York strawberries and they couldn't have been any sweeter. Piled high on biscuits then finished off with a dollop of cool whipped cream, the shortcake was the perfect finish to my dinner. (From the reactions of people nearby, apparently the pie also satisfied the sweet tooths in the crowd, but I thought I should limit myself to one dessert for the day. Resisting was hard, though.)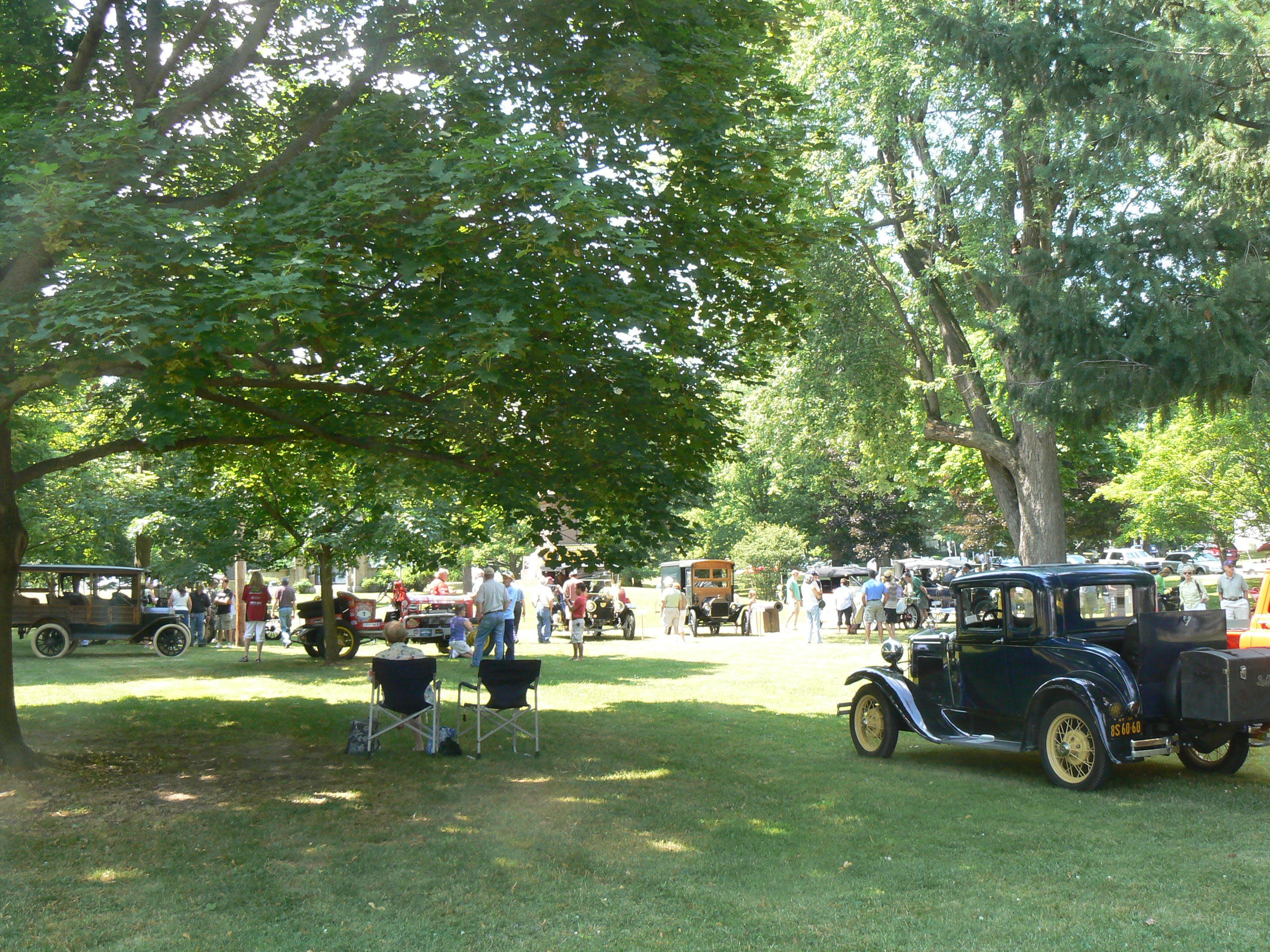 Even though this year's meet is over, I've already lined up several friends to join me next year. I'm sure there will be new "old" cars there on display, in addition to the ones owned by the car collector friends I've made over the last several years. I couldn't have found a more interesting way to relax and get away from the hectic pace of everyday. If you have a bucket list, add this event to it. After all, how often do you get a chance to spend a few hours in the early 1900s?