There is always great summer music to be found in the Finger Lakes! Many communities have a free concert series, restaurants have live music on their decks and patios, the Canandaigua Lake Music Festival comes to town, and we have great concert venues like The Smith Opera House and CMAC, where up to 15,00 fans can enjoy a concert under the shell or on the lawn.
Finger Lakes Gaming and Racetrack in Farmington has added a Summer Concert series to their list of entertainment options. This summer there were three free concerts, and one ticketed concert - well within my budget at $12. The concert was...wait for it...Barenaked Ladies! And it was fantastic. I love the way the band interacts with the audience - they made a big deal out of driving from Ontario, Canada to Ontario County in upstate New York. They improvised a little song about Ontario County, and even worked the casino's slot machines and the big buffet into the lyrics of their classic "If I Had a Million Dollars".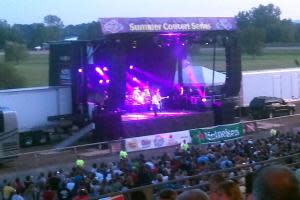 Finger Lakes Gaming and Racetrack is a wonderful place for a concert. Sitting in the stands, you have a great view of the stage, surrounded by the groomed racetrack and the big outdoors! The sunset was beautiful, timed nicely between the opening act and the headliner. The fans who wanted to stand and dance had plenty of room in the enclosure, while us "boomers" could remain comfortably seated and still see the band. The whole experience was great from start to finish, because all the amenities are already in place. Parking, admission, security, food and beverages - they know how to handle a crowd effortlessly.  After the concert, we were able to get in our car and drive home with no delays, among thousands of people doing the same.
Whatever your taste, the "music scene" continues to grow in the Finger Lakes - come and join us!