Taking a trip to the Finger Lakes means fun times, relaxing stays and an oasis from the rigors of everyday life. But for many, the Finger Lakes area checks one additional box: figuring out what to do with your pets. 
For as much as we'd love to leave our cares (and our cats) at the door, there's always a heartstring tugged when it comes to leaving your pets. Fortunately, there's good news for all our furry friends. An unsung hero in the vacation space is the pet-friendly nature of the beautiful Finger Lakes region. Tell all those good boys and girls of the four-legged variety to get excited, because we're going on much more than a walk!
It's time to check out the most pet-friendly places for you and your bestest bud.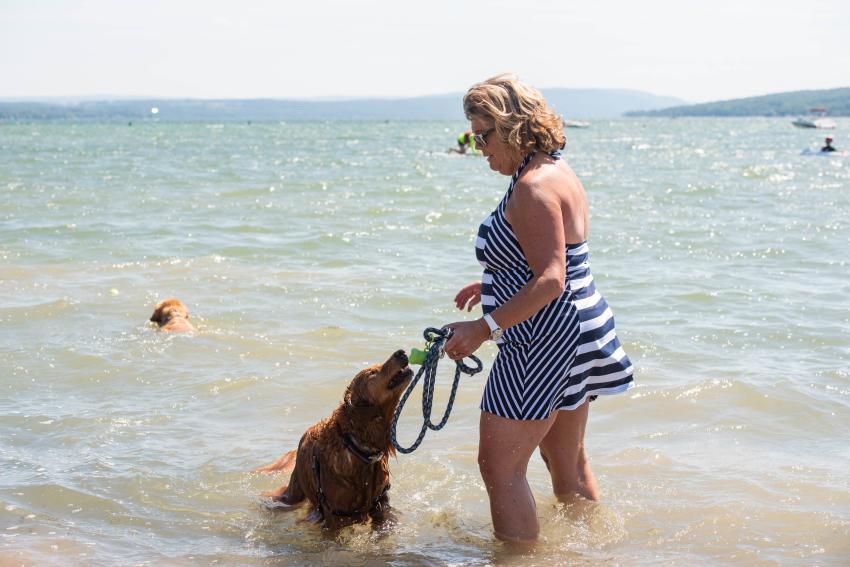 The Best Outdoor Places for Pets
Room to run with plenty of sun—for most pets, that's the key to a good day. Here in Ontario County, when it comes to wide-open spaces for Fido to fetch, there's no lack of options.
Looking to give your energetic sidekick a workout that'll have them panting? Try Ontario County Park at Gannet Hill. With an elevation of 2,256 feet above sea level, 410 acres of woods and open lands, and 13 miles of hiking trails, there are plenty of open-air spaces to let loose.
If your pupper is more of an aqua-dog, Kershaw Park is the place to be. Located on Canandaigua Lake, waterfront activity abounds, and it's only a matter of time until your pet goes full doggie paddle. But if you're trying to stay dry, bring your companion to Grimes Glen Park.
Rounding out the park portion of this trip is the home of 100 water jets (known to have baffled more than a few dogs in its day). Seneca Lake State Park has a "Sprayground" equipped for cooling off. After a sufficient soak, the boats, bikes, kayaks and canoes dotting the area provide the perfect sightseeing for a relaxing break.
Finally, when it comes to the great outdoors, nothing tops a solid W-A-L-K. Victor's Hiking Trails offer a variety of jaunts from woods to cross-town trails to sidewalks. The Manchester Gateway Trail in Clifton has a shorter trip with a 1.5-mile path. But what it lacks in length, it makes up for in a design created to enhance the beauty of the streambank habitat. 
---
Pet-Friendly Accommodations
Although finding a place to stay is hard enough for humans, the Finger Lakes makes it easy, even with a pet! 
Camp in the Woods, located in Stanley, is a quiet, pet-friendly spot owned by three generations of the Frankish family. There's plenty to do nearby once you've secured one of the nearly 90 camping sites to call your own. And if you have any questions, just let John or Josh know. This is the type of place made for first names and friendly faces.
If a more modern approach is in the cards, The Finger Lakes Hotel, Days Inn, Homewood Suites and Microtel offer rooms with pet-appropriate options. For a similar but different experience, check out the Miami Motel in Canandaigua.
---
Pet-Friendly Wineries, Breweries and Restaurants
It's no secret that the Finger Lakes has some of the best wine in the land. So why not grab a glass and enjoy the smooth tastes alongside your fluffy pal. Despite its name, Hazlitt's Red Cat Cellars welcomes dogs of all kinds to their outdoor seating area. From May to October, the same sort of seating is available at The Arbor Hill Grapery and Winery in Naples. Meanwhile, Heron Hill Winery rolls out top-of-the-line wines for the people and all-natural, gourmet bone-shaped biscuits for a doggie treat. Whichever you pick, there are no wrong choices.
As for food, there are more than a few options to bark at. New York Kitchen and Simply Crepes offer top-of-the-line tastes with puppy-approved accompaniment in Canandaigua. Naples options include Brew and Brats and Roots Cafe (outdoor seating only). For something a little different and doggie-approved, Kindred Fare is a Geneva staple you won't regret stepping into.
---

Premier Pet Places
After the walks and lodging and the food and the wine have been handled, there are only a few places left to go. Despite catering to different crowds, these are the premier places for pets. Just look at the names for all you need to know.
Up first is Bad Dog Boutique in Canandaigua. It's a one-stop-shop for all things grooming, products and gifts in the world of dog. Local and national brands line the walls alongside local artists, treat bakers and the one-of-a-kind Canandaigua Bad Dog retail product line. Put it on the list! Bad Dog Boutique is a winner.
On the opposite end of the furry-friend spectrum is Purrs and Paws Cat Café. We'll give you one guess what this is and you're probably right. It's a café filled with feline friends! Located in Eastview Mall in Victor, the café serves award-winning, locally roasted coffee alongside adorable, adoptable kitties. Yep, that's right, you can adopt them. For many pet lovers, this is a dream come true. Cats and coffee. What could be better?
---
The Finger Lakes is filled with surprises and now, thanks to the pet-friendly places that keep popping up, you'll never have to leave your cats, kittens, doggos and puppers back at the ranch. Whether it's lakes or trails, wine or dine, or any other options, make your next trip one the whole family (furry or not) will remember.