The Heron Hill Tasting Room at Bristol is offering a unique opportunity this summer to walk through a Finger Lakes vineyard and learn about the grape-growing cycle. Every Sunday through August 14, you can join Finger Lakes Community College viticulture student Andrew Mavromatis in the Ingle family vineyards overlooking Canandaigua Lake and the Bristol Hills.
I enjoyed the inaugural tour with Andrew, who was born and raised in the Finger Lakes. Another Heron Hill employee, Karen, joined us in the vineyard and added her years of grape growing wisdom to the tour. She and her husband, Darryl, have worked at the Ingle Vineyards since the late 1970s. The original vines were planted in 1972 by Heron Hill owner John Ingle and the vines became established in 1978, with more vines added over the years. 
I have visited the Tasting Room on many occasions but I was never aware that they only grow Cabernet Franc and Riesling grapes in this vineyard. It was amazing to see the tiny clusters that will soon grow to be grapes in the fall, on their way to becoming delicious Heron Hill wine, which I had the opportunity to taste following the tour!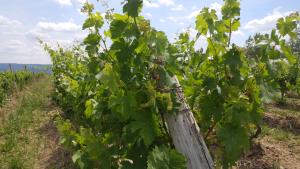 We had a beautiful summer day and the tasting was set up at a picnic table overlooking the vineyards. Andrew, a former chef, made a delicious calzone to accompany the wine. Future food pairings will change week to week, depending on Andrew's creative spirit. From my experience, it will be well worth the surprise!
I can't give away all of the secrets because I think you should plan on attending to learn the process of successful grape growing and harvesting. But ... I learned about suckering, tying canes, weed control without the use of pesticides, the difference in the terroir from one Finger Lake to another, the harvesting of grapes for ice wine and so much more. Hey, did you know that grapes are self-pollinating?
Andrew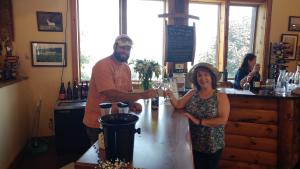 shares his passion for viticulture and the beauty of the Finger Lakes in his Vineyard Walk & Talk - don't miss this opportunity! Space is limited – sign up today. Cheers!