Everyone who works at the Finger Lakes Visitors Connection just happens to live in different parts of Ontario County. So we have a lot of collective home turf expertise. 
Earlier this week, we spent the day in the "twin villages" of Manchester and Shortsville, as well as a mid-day stop in Clifton Springs. For those of us who live in other parts of the county, the day was filled with a lot of "I didn't know that" moments. Here are my favorites.
Choo choo!
At the Lehigh Valley Railroad Historical Society Station Museum at 8 East High Street in Shortsville, I learned that hobos had their own way of communicating via simple pictures and symbols. A stick figure image of a cat, for example, meant a nice lady lives here. (I have three cats at my house. According to my husband, that means "a crazy lady lives here.")
The museum has other photos, artifacts and paintings about rail history in the region. But perhaps the best resource is President Dave Halderman (pictured below), whose grandfather was an engineer for 46 years. One of Dave's fondest memories growing up was riding the train with his grandfather on Sunday afternoons after church.
At one time, Dave says, the Manchester railroad yard was one of the busiest in the country. (I sure as heck didn't know that.)
The museum hosts an open house one Sunday a month May through October. Upcoming open houses are 1 to 3 p.m. on Sept. 20 and Oct.  18.  The public is invited.
A walk on the mild side
While David Lee (who is my co-worker here and lives in Manchester) had told me about the 1.5-mile Manchester Gateway Trail,  it wasn't until I walked it myself that I realized what a great place it is to get away from it all. The trail follows the Canandaigua Outlet under a shady forest canopy and links the twin villages.
"It's so peaceful," say Ann Gulick, a Manchester resident who was walking the trail for the very first time with her friend Betty Bowerman.
Take a look at this picture. It's hard to disagree.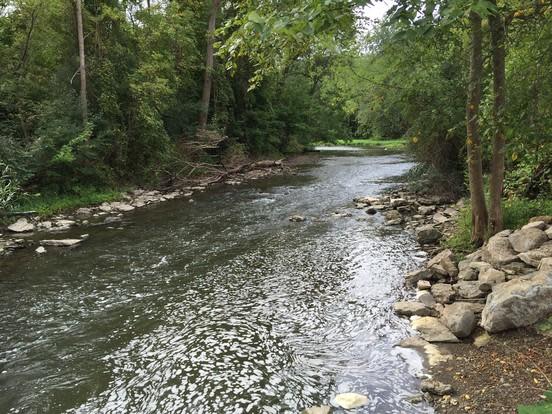 Nature trail where you least expect it
We also stopped at the Travelodge in Farmington, right off the New York State Thruway at Exit 44 on Loomis Road.  Undergoing a major makeover, the 1960s-style motel is surrounded by 19 surprisingly scenic and hilly acres, which include a nature trail looping around the property. Work is being done to restore the trail so that future guests can use it. This Travelodge is pet-friendly, so the trail will be a great place for dog walking.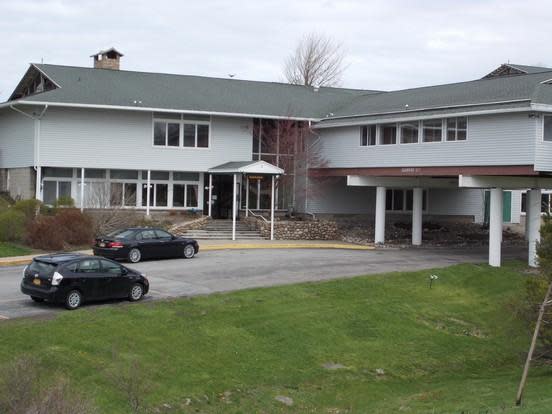 And he had a spiritual side, too
Dr. Henry Foster, the physician who founded the Clifton Springs Sanitarium in the mid-19th century, was a firm believer in the mind-body-spirit connection. Yes, he founded his Water Cure in Clifton Springs in 1850, but he also had a religious side to his practice.
"You might as well try to cure disease by prayer without treatment, as to try to cure it by treatment without prayer," he said. In other words, the right spiritual frame of mind was essential for the journey back to health.
Which is why he made the chapel the heart of his sanitarium.
That chapel is where you will find a Tiffany Mosaic of The Last Supper. It is another peaceful place to sneak in a few moments of reflection and meditation. The Mosaic is at the Chapel at the Spa Apartments at 11 East Main St. in Clifton Springs.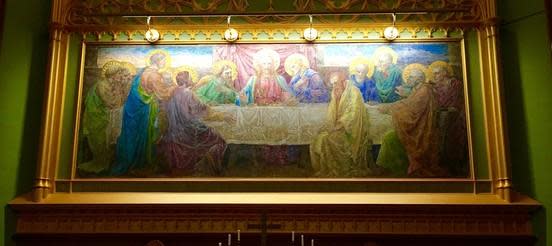 Printing miracle
Regardless of whether you follow the Mormon faith or not, a trip to the Book of Mormon Historic Publication Site at 217 East Main St. in Palmyra will make you realize how challenging it was to print 5,000 copies of a 600-page tome in 1830. Elder Miller explained each tedious step, from setting the type and inking the casing to cutting the pages and assembling the covers. He estimates there have been 10 to 15 million copies of the Book of Mormon printed in dozens of languages since that first historic printing in 1830.