Golf Courses
Golf in the Finger Lakes is awesome, according to our visitors. With almost a dozen golf courses in Ontario County, the Finger Lakes is the perfect place to hit the links. You'll recognize some of these names: Ravenwood, Winged Pheasant, and Reservoir Creek to name a few.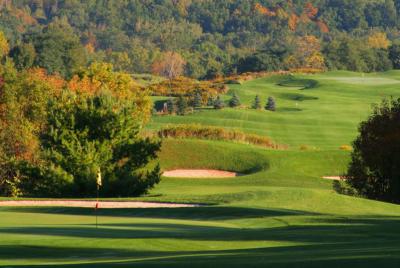 The quality of the golf courses in the Finger Lakes has been commended by such magazines as Golf Digest. There's a perfect blend of challenging holes, fantastic lakeviews, and scenery that keeps on giving.  
The Finger Lakes Golf Trail provides you an opportunity to play across a couple of courses. Check out these deals on overnight getaway packages in the Spring or Fall. Want 54 holes all in one place? Check out Victor Hills for that!
Whether you are looking to take in the scenic rolling hills of Naples at Reservoir Creek, or take on the five tee placements at Ravenwood, the Finger Lakes golf scene has it all.
Our area is a favorite for golf championships. The renowned Ryder Cup and the PGA Championship have been held in nearby Rochester, New York. Ravenwood plays hosts to the Junior Championships. 
Call for your tee times … your next round of 18 holes is calling.