'Tis the season for spooky and scary fun, so if you're looking for some frightful entertainment around the Finger Lakes region, there are plenty of tricks and treats to be found!

Here are seven events guaranteed to add some scariness to your Halloween season.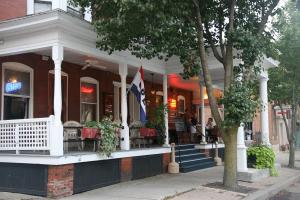 #1. The Naples Hotel—Have Dinner or Stay Overnight
The Naples Hotel, built in 1895, has been home to countless travelers over the years, some of whom apparently never left, according to the hotel. Today, the hotel's 32 rooms are haunted by at least six friendly spirits, including a woman and her children, as well as a gentleman named Topper. They are said to move pictures, turn on lights and lock doors! This Halloween season, have dinner in this historic hotel, or better yet, book a room to experience the Naples landmark yourself.
For even more of a haunted experience, book a reservation-only tour by calling (585) 374-5630.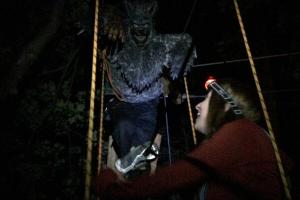 #2. Scaerial Adventures: Haunted Headlamp Tours
Friday & Saturday nights, September 29 - October 28, 6:30-10 p.m.
Keep your expectation high for Scaerial Adventures at Bristol Mountain, where haunted zip-lines, bridges and the ropes course will take you on a spooky flight through the night sky. Costumes that fit under safety harnesses are welcome. Reservations are encouraged and can be made by calling (585) 374-1180.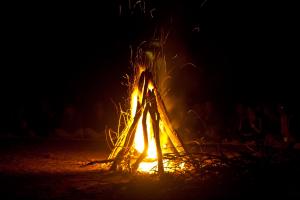 #3. Scary Tales in the Bark Longhouse
October 13, 6 p.m.
Who doesn't like to get spooked out once in a while? Take that spook up a notch by visiting Ganondagan State Historic Site for scary tales told in the bark longhouse. The Senecas have a great tradition of storytelling, and this event will get you in the Halloween Spirit. Come and sit around and listen to stories that are guaranteed to give you goose bumps and make the hairs on the back of your neck stand on end.
#4. Spooky Cocktails

October 27, 6-7 p.m.
In preparation for Halloween, the New York Wine & Culinary Center is creating some fall cocktails that are worthy of your Halloween party. An experienced instructor will guide you through three cocktail mixology methods, using seasonal products and New York state spirits. You'll have the opportunity to sip and savor samples of the cocktails along with a small snack. Come enjoy some spooky spirits! (The good kind of spirit!)
October 27, 7 p.m.

Get into the Halloween spirit with a Ghost Walk … and experience Bloomfield in a whole new, spooktacular way! The East Bloomfield Historical Society will offer 45-minute Ghost Walk guided tours starting at 7 p.m. and leaving every 20 minutes. Your guide will share exciting and chilling tales about the area in this family-friendly tour that winds through the quaint town. Tours start at the East Bloomfield Historical Society at 8 South Avenue, travel through town and then wind up back at the historical society, where refreshments will be served. Signups are strongly encouraged, but not necessary.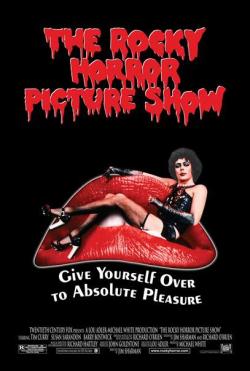 #6. The Rocky Horror Picture Show

October 28, 9 p.m.
The Rocky Horror Picture Show, a cult classic from 1975, returns to The Smith on Halloween weekend, with action-packed romance, thrills, chills, lots of laughs and 16 great sing-along songs! This ultimate movie experience is a mad mix of classic horror/sci-fi, super-charged sensuality and outrageous fantasy. It's the story of an "ordinary" couple and an unforgettable night at the castle of Dr. Frank-N-Furter, a mad-scientist from the planet Transexual, Transylvania.
The Smith staff wants attendees to enjoy this ultimate movie experience (including costumes and having your audience participation script memorized), but they do hope you'll refrain from water spraying. It makes their mascara run and ruins their nice big movie screen!
October 29, 6:30-8:30 p.m.

Join Sonnenberg Gardens & Mansion State Historic Park—if you dare—for a "haunted" stroll through the Sonnenberg grounds. Hear strange Sonnenberg tales that will give you goosebumps! Be ready for spooky characters during the walk—you never know who or what might be lurking or watching! Will it be an apparition of a Civil War general who died in the mansion? Or perhaps the Lady in Black who continues to walk the grounds? What other macabre visitations or weird sights will you experience?
Want to see where else you can explore in the Finger Lakes? Join our email list!