Fall in the Finger Lakes is filled with the kind of majestic beauty that takes your breath away.  Cool air signals a changing of season as trees and bushes transformed by color beckon you outside. So, get out and experience Ontario County's natural beauty in an interesting new way. Sign up for a Finger Lakes Forest Therapy shinrin-yoku-inspired walk. Shinrin-yoku, also known as forest bathing, is a wellness trend gaining popularity in the United States, with 30 years of research in Japan showing the powerful emotional and physical benefits of being in the forest. It just may be the new yoga.
The name may conjure images of shampooing your hair in a creek or pond, but it's not. Forest therapy is about taking a slow walk through the woods to immerse yourself in the forest and allow your senses to take in the natural environment. Like me pausing to smell a sprig of hemlock.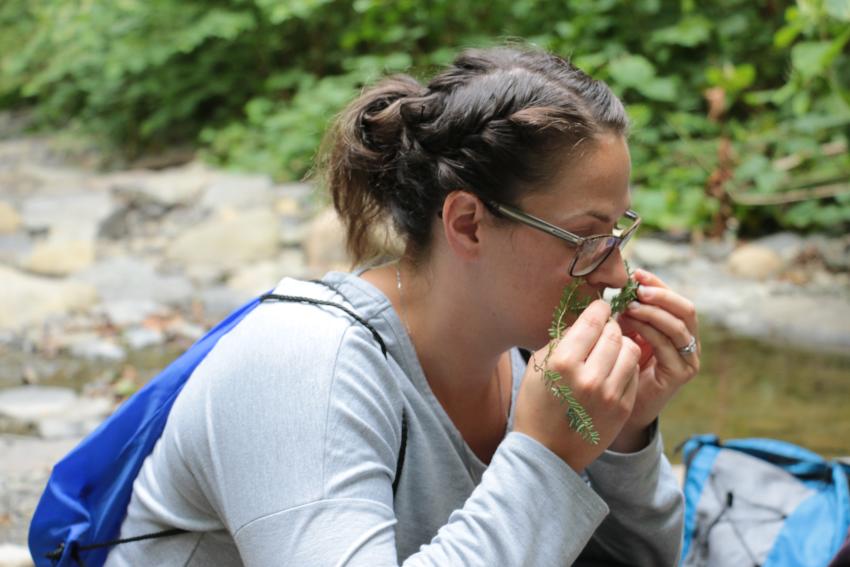 There's years of science to back up the claims that mindful time in nature can decrease stress hormones and increase serotonin and feelings of peace which can help with stress management and getting better sleep. Which, increases memory and focus, elevates your mood, and the list goes on. Still with me? What the science is showing is as simple as this—spending time consciously surrounded by nature leaves you feeling tranquil, balanced and happy.
Intrigued? Skeptical? A little of both?
Several weeks ago, our team went on a Finger Lakes Forest Therapy walk. Some of us, myself being one, were very excited and eager to bathe in the forest. Some were warier of spending hours walking through the woods.
Obviously, Taylor couldn't wait!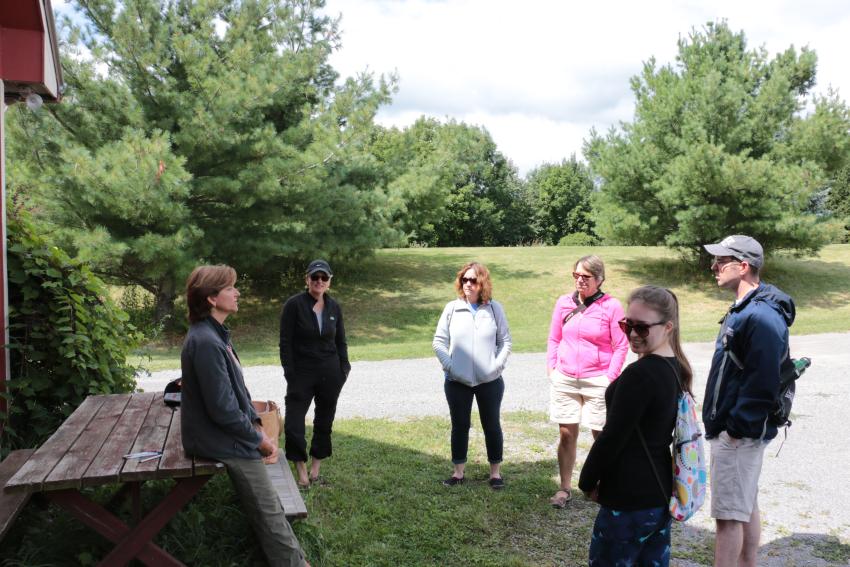 Now, forest therapy walks are just that—walks. These are not hikes, they're not exercise meant to get your heart pumping and pulse racing. Quite the opposite, as our wonderful guides, Deb Denome and Teresa Benoit Keyes shared with us, forest bathing is meant to slow everything down—to regain a long-forgotten sense of calm and peace, to allow ourselves to disconnect from the realities of our world, and reconnect with nature. Deb and Teresa offer public or private walks through woodlands and on beautiful and forested ADA park trails! 
Through a series of invitations from Deb and Teresa, we connected to the earth, nature and each other on a deeper level. An invitation could be as basic as taking 15 minutes to walk 50 feet and observe. I came to a stop to sit on a rock and lost track of time watching the water flow around me. The rest of the team explored at their own pace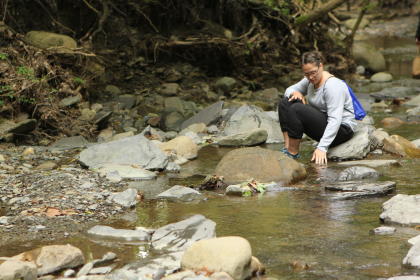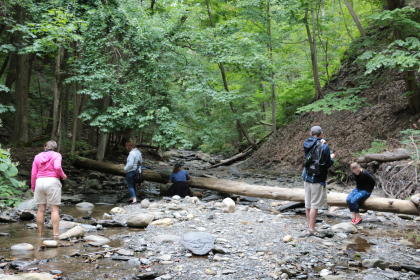 Each walk concludes with a tea ceremony, using herbs and plants Deb and Teresa collect from the forest to complete the act of taking in our surroundings. And while we were all together, everyone had very different experiences. Through the tea ceremony we came back as a group to share with one another our insights and observations. For Valerie, her experience was focused on the water, taking the path through the creek bed whenever she could. She also loved the quaintness of the tea ceremony, and will remember it long after her feet have dried. Christen was looking forward to a new experience, but she wasn't fully sold on bathing in the forest. She didn't know if she could disconnect from the world, or if she even wanted to. But as it turns out, she needed the experience more than she realized.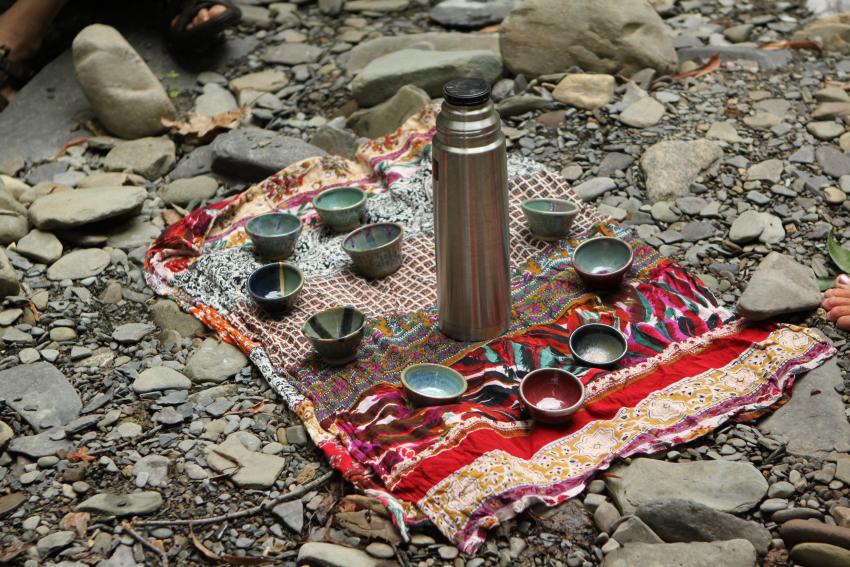 "Being in the forest made me feel calm, relaxed and overall, just plain happy," Christen shared. "I liked being there. I liked using all my senses to experience my surroundings, and I felt at peace when I left." Not a bad result for someone who doesn't identify as an outdoorsy person. Look at Christen, captivated by the water.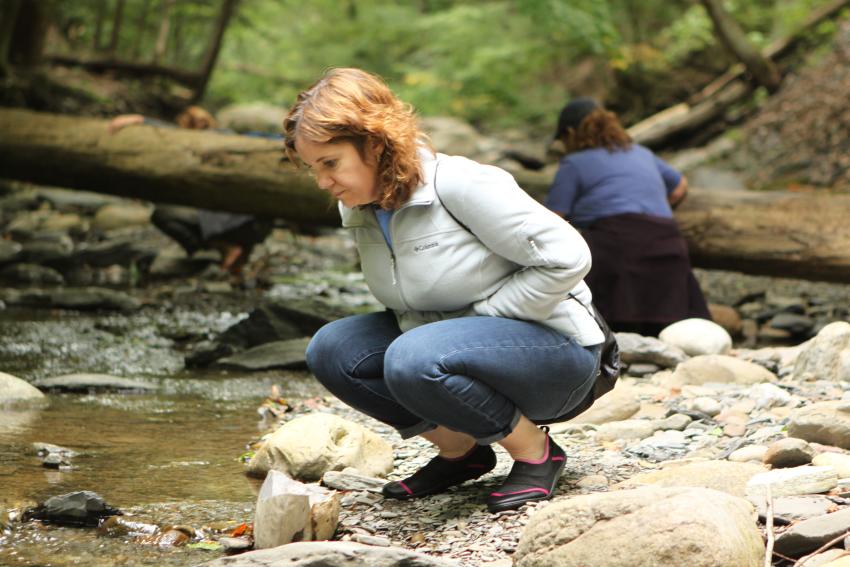 Jake was also surprised by the afternoon, which he said wasn't what he was expecting.
"I didn't expect to have such an impactful, deep and wholesome experience yet I walked away from Finger Lakes Forest Therapy with a renewed sense of vigor, energy and a new understanding of my teammates."
Sure, we all had our own reflections on the afternoon, but each one of us agreed on two things—Finger Lakes Forest Therapy is something everyone should experience and an experience that can benefit everyone.