At Visit Finger Lakes, we've picked up on the trend of enjoying the "specialness" of a cocktail but preferring to go non-alcoholic. We called some of our local restaurants and asked them for their mocktail specialties. We hope you'll go to each to try it – but in the meantime, have a little extra fun trying our versions of them.
Whether you are avoiding alcohol or just want a fun drink to enjoy, mocktails are a delicious experience. Many of the restaurants and hotels in Ontario County have also incorporated more inclusive drink menus that provide refreshing social drinks without the liquor. We wanted to see if we could successfully re-create these fun drinks from the office, so last month the FLVC team came together to try some locally inspired non-alcoholic cocktails. Here is what we tried.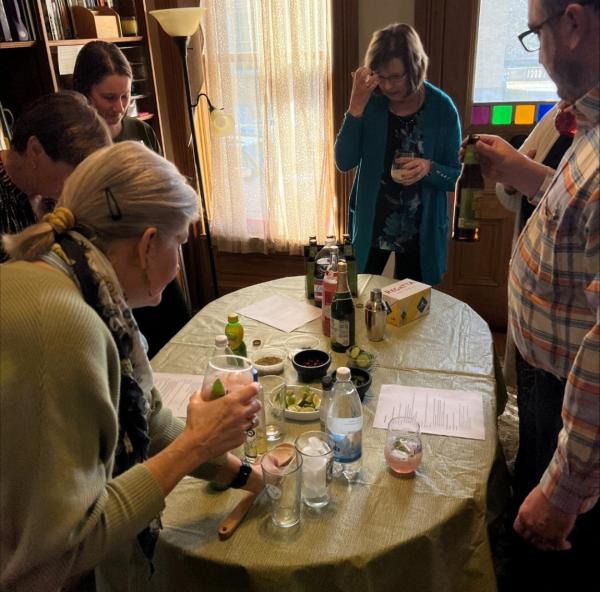 Above is a picture of our team trying out these recipes for ourselves! It was so much fun putting these drinks together and watching everyone add their own twist. This is a great idea to try with your team at work, your family, or your friends.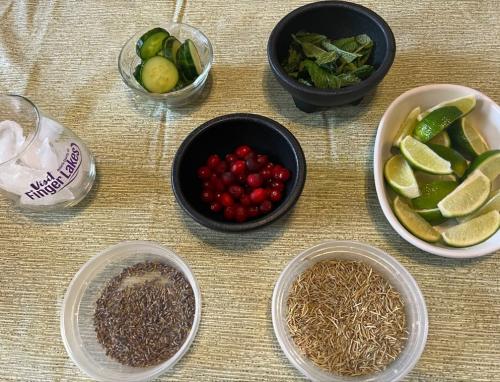 *A tip for measuring your ingredients: 3 oz is approximately a three count pour if you don't have a tool to measure liquids, so count to three as you pour! A splash is equivalent to a one-second pour. These are your creations, so enjoy making them to your taste and preference.
The Lake House on Canandaigua: Rose Tavern
 "SpritzNo"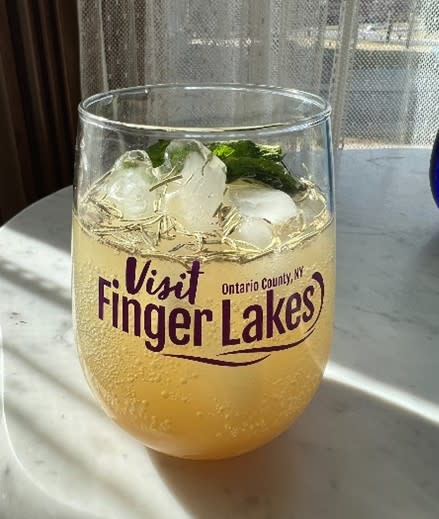 Ingredients: Seed lip citrus (or substitute with sour cherry lemon Frizzante), lemon, rosemary, pear, club soda
Instructions:
Add ice to a wine glass until it is nearly full.
Then pour in about 3 oz of pear juice (1 part)
Add 3 oz of seed lip citrus (1 part).
Then a splash of lemon juice and club soda to your taste preference (about 1 oz each).
Stir or shake lightly.
Garnish with a sprig of rosemary.
Here's a picture of the Lake House's signature mocktail:
The Lake House on Canandaigua is a luxurious and relaxing resort located on the shore of Canandaigua Lake. With beautiful views from room balconies, spa and sauna access, and world class dining at Rose Tavern, this is an amazing place to experience the laidback luxury the Finger Lakes has to offer.
Kindred Fare
"Pink Limeade"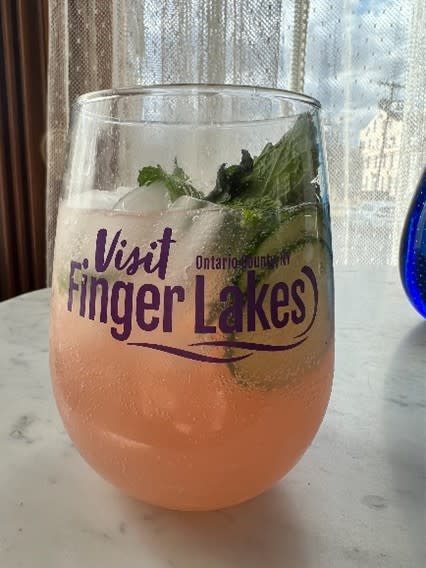 Ingredients: hibiscus tea (or substitute with sour cherry lemon Frizzante), cucumber, lime, honey (or simple syrup)
Instructions:
(If using honey) Warm honey and water on the stove until honey is fully dissolved.
Fill a mason jar ½ way with ice.
Juice limes into the mason jar (or fill with 3oz lime juice, to your preference).
Add equal parts hibiscus tea (or other juice of your choice, to your preference).
Pour in honey water or simple syrup and stir.
Fill the rest of the way with water and garnish with cucumber and lime slices.
Kindred Fare is a Finger Lakes dining experience inspired by farmhouse cooking, and spirited gatherings with family and friends. They invite guests to come as they are, relax with a drink, and enjoy a multi-course meal designed by their culinary team. Located in Geneva, NY, Kindred Fare is also dedicated to working with local businesses to create locally sourced meals.
Finger Lakes Visitors Connection Special
"The Julie"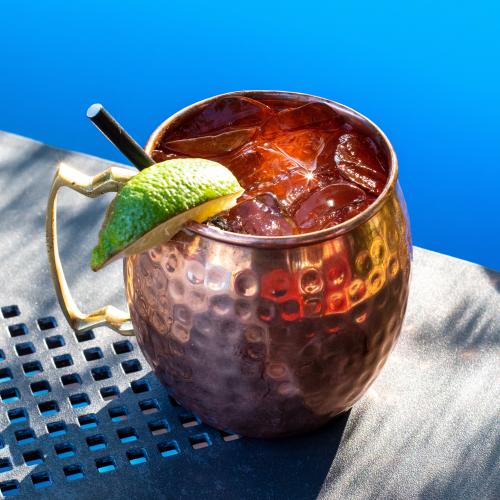 Ingredients: Ginger beer, cranberry juice, lime, mint
Instructions:
Fill a mug (preferably a copper mug to keep it colder) with crushed ice.
Add 1 part ginger beer (about ½ way full).
Add 1 part cranberry juice (about 3 oz or to your taste preference).
Add lime juice to taste.
Place a cover or a glass over the mug and shake for a second or two.
Garnish with mint and cranberries.
This mocktail was inspired by our very own Executive Assistant Julie Maslyn, who came up with the recipe for this moscow mule inspired drink. Julie is a mother of four, our in-house agricultural expert, and a Farmington local who brings a wealth of knowledge and organization to FLVC. Thanks for all that you do Julie!
Where's your favorite mocktail spot in the Finger Lakes?  We'd love to see what other recipes are out there that use local products – grapes, apples, blueberries, anyone?
Send your opinions to theresa@visitfingerlakes.com, we would love to hear from you!