In the Finger Lakes, you have the luxury of choice. From wide-open spaces and changing seasons, to local boutiques and a mega-mall, to water activities to arts and cultural experiences, you will find everything in Ontario County to personalize your road trip and make it the best vacation ever. But despite all this, one classic summer staple remains the road trip.  
With an eye on wide-open spaces, relaxing places, sightseeing trails, and scenic drives, we have a solution for your next summer getaway. No matter where you come from, Ontario County has a lot to offer in less than a day's drive. Refreshing activities, luxurious accommodations, and delicious local foods are at every turn. 

Whether you're coming from the north, south, east, or west, it's time to get your plans back on track and take a drive to the Finger Lakes. 
---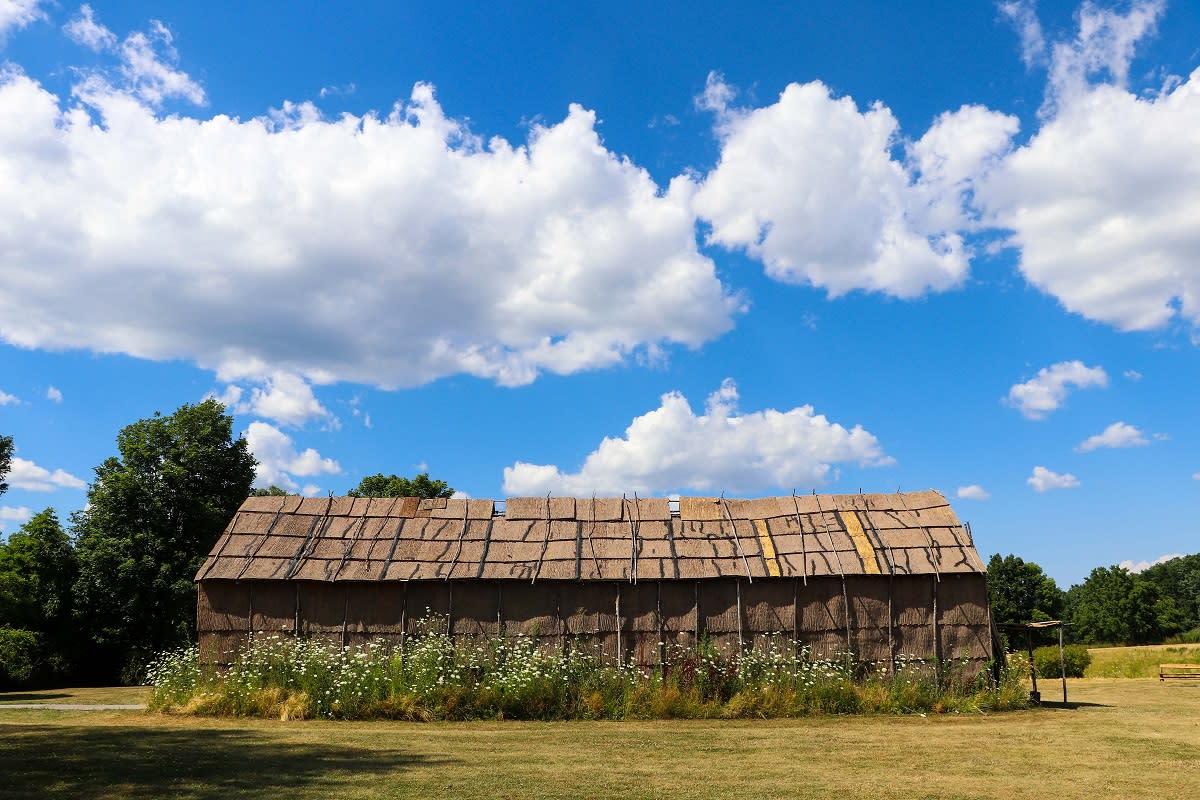 Bark Longhouse at Ganondagan State Historic Site has interpretive displays within and ethnobotanical trails surrounding it so you can stretch your legs and explore.
Northern Gateway
Manchester/Victor/Clifton Springs/Phelps
Many people come right off the NYS Thruway – Interstate 90. No matter which exit (45 in Victor or 42 in Geneva, to Phelps), there's a selection of not-to-miss things to do right as you exit.
Victor, at exit 45 is the popular entrance from the west and also from nearby Rochester. Here you will find Eastview Mall, a super-regional retail mecca, that has sparked the growth of a wide variety of nearby eateries and accommodations. Eastview boasts some unique stores to western NY, including L.L. Bean and Dick's House of Sport – where you can try out the sports before "buying." Also, the fascinating Ganondagan State Historic Site and Seneca Art and Culture Center, showcasing the Native American Haudenosaunee culture, is located in Victor. Multiple golf courses, hiking trails, parks, and craft breweries make Victor a great stop for a night (or two) on a driving vacation.
And, a hot tip from team FLX? If you like animals, you're only about 15 minutes to Lazy Acres Alpaca Farms. It's so much fun to cuddle an Alpaca.
Both residents and visitors love Manchester (Exit 43) and Clifton Springs for their small-town charm and rural surroundings. The Town of Manchester with its twin villages of Shortsville and Manchester, has many interesting options. You never know what you're going to taste at Reinvention Brewing – famous for their dainty donut and beer tastings, as well as their girl scout cookie pairings. There are trails and sweet shops on the main streets of the town. Check out Depot 25 Restaurant or Jack's Kitchen who earns a healthy 4.8 rating on social media for service and food. Other must-visit stops include the Lehigh Valley Railroad Historical Society and the Shortsville Reindeer Farm.
Not far down the road, Clifton Springs, formerly known as Sulpher Springs, for the natural mineral water that established the village as a healing center, is still known for the variety of alternative therapies offered at the Springs Integrated Medicine Center and Spa. The picturesque Victorian-era town has a vibrant downtown corridor with an art gallery, shops, and restaurants. A mecca for Upstate New York creatives, it's not unusual to see artists with their easels painting Plein air scenes around the quaint neighborhoods and the historic downtown buildings. Warfield's Restaurant, Lounge, and Bakery, housed in the Warfield Block built in 1871 with its pretty private garden, is one of several eateries in downtown Clifton Springs that will delight the hungry traveler.
And, to finish off this corridor. In nearby Phelps, it's well worth the drive to the Waterside Wine Bar, a destination for lovers of Finger Lakes wines, beers, and light fare, overlooking the Flint Creek Waterfall. Also, stop in Local Palate on Main Street, a family-run neighborhood market with an amazing selection of local artisan cheese and charcuterie, dairy, meat, and produce, craft beers, and sodas.
---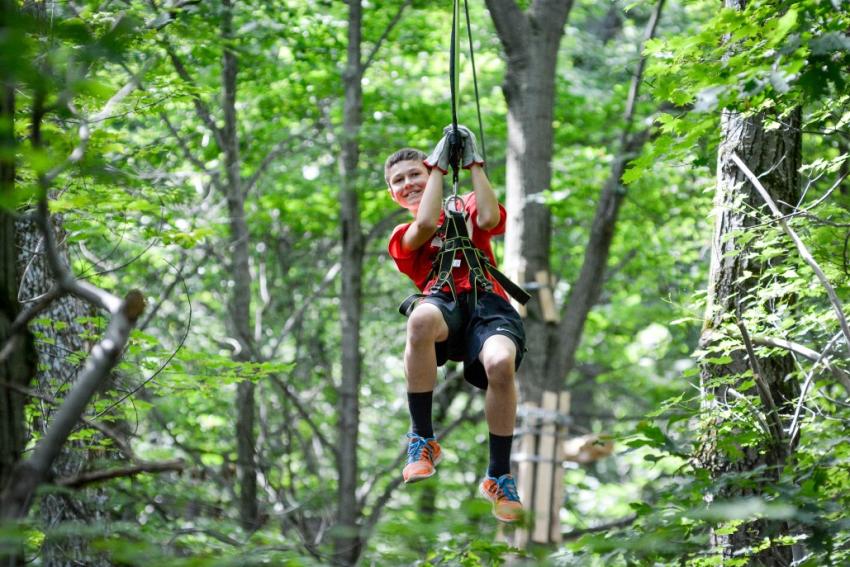 Swing through the trees at Bristol Mountain Aerial Adventure where you can find 7 ziplines measuring 5,000+ feet, tight rope walks, and bridges.
Southern Gateway
Naples/South Bristol
Nestled in Ontario County's southwest corridor, Naples is known for its stunning scenery, keen appreciation for the arts and artists, and an obsession with grapes. First, for the scenery, include in your trip a stop at Carolabarb Park, with its scenic outlook over Canandaigua Lake. The cameras are a must for that view! Grimes Glen County Park, Cumming Nature Center, High Tor Wildlife Management Area, and the West Hill Preserve are great places to enjoy the view as well as hike, bird watch, snowshoe, and cross-country ski. Art lovers will enjoy big city talent performing plays and musicals at the Bristol Valley Theater from May through October, as well as eclectic boutiques that reflect the artistic lifestyle inspired by the beauty of the Naples area. Artizann's features a wide variety of local artists' works including pottery, hand-blown glass, wood works, sculpture, metal work, paintings, photography, jewelry and much, much more. Commercial grape growing first took root (no pun intended) in the Naples Valley over 150 years ago, and today Naples still embraces their grape culture with wineries, purple fire hydrants, grape pies, and the annual Grape Festival in late September that celebrates everything grape. And you won't go hungry in Naples either. From distillery dining to farm-to-table experiences to craft beer and sausage delights, Naples dining is funky and eclectic. There is so much to experience in Naples that you might want to spend the night at the historic Naples Hotel built in 1895 and known for its haunted past and resident ghosts. Not to worry though, as far as we know, all of the ghosts are friendly!
Bristol Mountain is well known for skiing, snowboarding and hiking as well as Bristol Mountain Aerial Adventures that features a Kids Adventure Park and a Zipline Canopy Tour. After the mountain, make sure to go to Brew and Brats at Arbor Hill. Join in the casual atmosphere with local beer, karaoke, and lots of friendly people!
---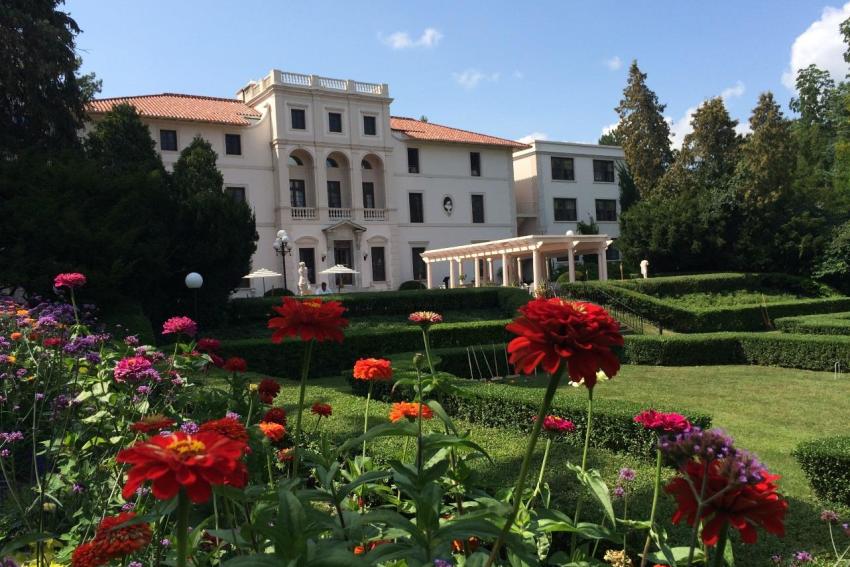 Geneva on the Lake is a AAA Four Diamond boutique resort hotel in the heart of the Finger Lakes Wine Region.
Eastern Gateway 
Geneva 
Driving in from the Syracuse side? If you are entering Ontario County from Syracuse and the east, you will be awe-struck by the historic, charming, and picturesque small city of Geneva sitting on the northern rim of Seneca Lake. A visit to Geneva should include sampling award-winning wines, learning about the area's amazing history, basking in the romance of an 18th-century castle, and savoring the eclectic food scene inspired by Geneva's deep roots and contemporary science in farming and agriculture. The historic Belhurst Castle includes castle rooms and modern guest rooms, a tasting room for the Belhurst Winery, Isabella Spa, Edgar's Restaurant and the casual Stonecutter's Tavern, set on sprawling grounds overlooking Seneca Lake. If an Italian villa is more your style, Geneva on the Lake, built in 1914 to resemble an Italian villa, is a AAA Four Diamond resort offering gourmet dining, beautifully manicured gardens, boat access and guest suites and studios, all appointed with handcrafted Stickley furniture.  In addition, national hotel chains, small boutique hotels, bed & breakfasts, and vacation rentals are plentiful in and around Geneva.
Geneva is a very walkable community, so be sure to stroll through downtown and admire the still thriving Smith Opera House built in 1894, historic, multi-colored South Main Street row houses, and Linden Street's eclectic dining and retail scene, part of the vibrant downtown shopping district. Check out some of the stores branded with the FLX and Vinifera – where a speakeasy lets you really escape to some special tastes of the Finger Lakes. Geneva is also a perfect hub to travel the Seneca Lake Wine Trail, which features some 30 wineries and runs through and around Geneva. 
A hotspot in Geneva is the Finger Lakes Welcome Center. You'll get more trip ideas here, and definitely get your place in line to take a picture in the heart of that huge I Love NY sign!
---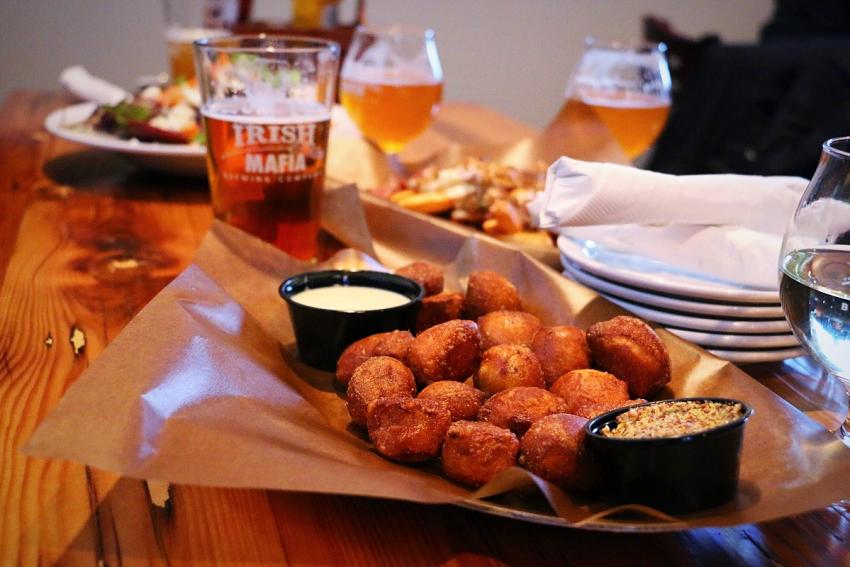 Hear the story of "Willy of Cork" or share your own Irish Mafia story at Irish Mafia Brewing Company.
Western Gateway
Bloomfield/Bristol/Honeoye 
Bloomfield, Bristol, and Honeoye welcome visitors arriving from the west with rolling hills, country charm, history, and an abundance of outdoor recreational opportunities. If you are looking for an escape from the hustle and bustle of everyday life, these three towns will provide the calming atmosphere that is exactly what you need. 
There is no shortage of parks and trails in this part Ontario County, which includes Patriot Park and Sandy Bottom Park.
Visit  Wizard of Clay Pottery, famous for their unique leaf imprints on handmade pottery made by the "Wizards." In Bloomfield, the Irish Mafia Brewing Company is a good place for a bite and a beverage, before visiting the fascinating Antique Wireless Museum or the Vintage Tracks Museum.  
We highly recommend the breweries in this area. Birdhouse Brewing provides a fun atmosphere and some special events that engage you to really relax during your drive around. Nearby is a special attraction for the fisherman and outdoors-inclined travelers. Doc's Tackle is the place to pick up all your supplies – whether you're on your own or getting a special guide through Tennity's Guide Service. Other Half and Noble Shepherd breweries are also worth the stop if there is a beer geek in your group. And any road trip day ends on a good note with a tasty ice cream cone or sundae. Shivers and Sharks are both good options for ice cream enthusiasts (and who isn't?).
---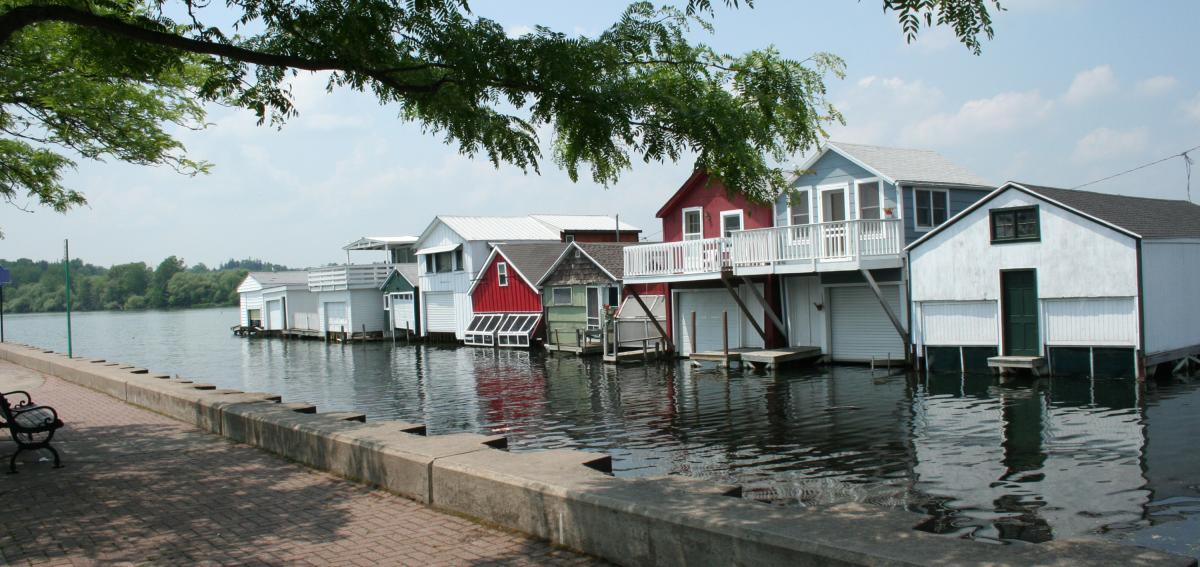 Picturesque, historic boathouses line City Pier; a perfect spot for a stroll.  
Right in the Middle
Canandaigua 
North, south, east, and west, each gateway to Ontario County has something special to offer, but I encourage you to venture into the heart of Ontario County and spend some time in Canandaigua, the "Chosen Spot."
Canandaigua is known throughout the region for its variety of eateries, that are not only varied but really, really good. To add to the great food, the local beverage scene is beyond compare. Travel the ROC/FLX Craft Beverage Trail, the Canandaigua Lake Wine Trail, or visit NY on Tap at New York Kitchen, featuring 60 different and ever-changing NYS wines, 10 taps highlighting seasonal craft beers and ciders, distilled spirits, as well as non-alcoholic beverages. Sip and savor diverse flights and take your favorites home to remind you of your Finger Lakes driving vacation. Historic Main Street and downtown Canandaigua is still thriving and you have choices from gift shops to chocolate shops to music and shoes. Maybe you want to ponder your best shopping experience from either Nick's Skydeck , or KiX on Main rooftop restaurants?
But it's not just about the food and drink in Canandaigua - outdoor recreational opportunities abound in, on, and near the water. Take a walk on the City Pier with its colorful historic boathouses that draw artists and photographers from all over, then continue your stroll along the lakefront Kershaw Park with its picnic area, beach, public dock, and small craft boat launch. Canandaigua Sailboard can set you up with a paddle board or kayak, plus they offer instruction for first-timers. Not far from the waterfront area is Roseland Waterpark and Roseland Wake Park, for aqua-themed fun and adventure. The luxurious Lake House on Canandaigua is the ultimate in lake life experience, but a multitude of other lodging options are also available to suit any taste and budget. Two favorites that get a lot of return visits are the Miami Motel and the Lafayette Motel. Both are family run and you'll get lots of special care there!
---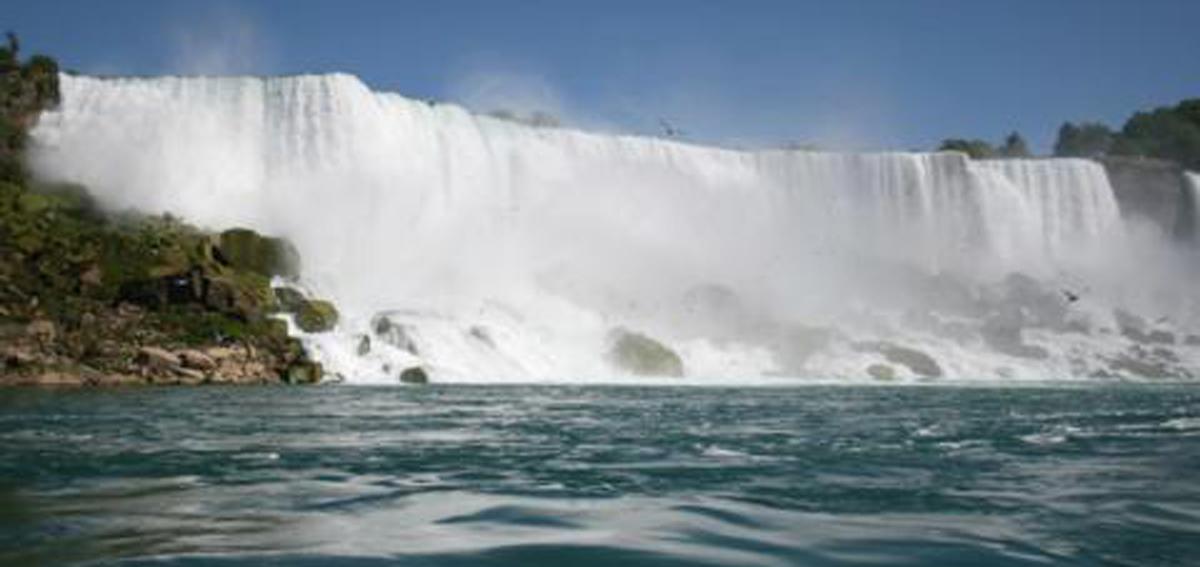 Bonus! Nearby spots and driving favorites
Routes 5 and 20, Seneca Falls, Niagara Falls, and more!
We call Routes 5 and 20 our Authentic American Road. Weaving from Skaneateles to Darien, you'll cross all the towns at the north end of our lakes, plus you'll see some of the most fantastic farm-scape scenery in the nation. Each town and each lake has its own character, so stop when the whim hits you and check out that special antique store, or farm stand, or special roadside attraction. Meander through a women's rights trail from Seneca Falls to Ontario County's Courthouse to Rochester's Susan B. Anthony Museum. Stop at our office on Susan B. Anthony Lane and see our Victorian office and welcome center. We have more ideas that'll keep you here or get you to come back again and again. Discover more day trip ideas in the Finger Lakes. Use Ontario County as your home base and explore away.
The Finger Lakes lifestyle will surely draw you in and make you never want to end your Finger Lakes road trip! Here are a few things to know before you go.
•   Pick your top 5 stops - contact Finger Lakes Visitors Connection for help if you need it.
•   Plot your stops on a good Finger Lakes map
•   Check driving times - take the scenic route.
•   Do not be afraid to veer off the main routes- some of the most interesting places are off the beaten path.
•   Pack a cooler - there are so many places to get great local foods for munching in the car and to take home.
•   If you decide to do wine and craft beverage tours, appoint a designated driver or take an escorted tour.
•   Book your accommodations ahead of time - you don't want to waste time hunting for a room or campground.
•   Pack some good walking/hiking shoes - our communities are walkable and we have plenty of parks and hiking trails.
•   If you have a bike, bring it!
•   Lastly, bring your sense of adventure and get ready for your best road trip ever!
Tag us @VISITFLX and #FLXperience and share your personal favorite Finger Lakes road trip recommendations!