Have you ever wondered what it's like to train like a golf pro? In honor of the PGA Championship 2023 visiting Oak Hill in Rochester this year, I was interested in finding out where I could get some much needed help with my swing in Ontario County. You know, to prepare me for the chance to meet my PGA husband while he's in town.
After recently visiting Dick's House of Sport in Eastview Mall, I was introduced to Sean Lalley, a resident pro, who teaches lessons and helps operate the Golf Performance Center. That's right, nestled in Eastview Mall are three new golf simulators powered by Trackman 4 technology, where you can practice your drive inside and measure where the ball would have gone. The third simulator contains something even more special; Sean informed me that the House of Sport now has 3D technology that can record and evaluate your swing performance. Sign me up!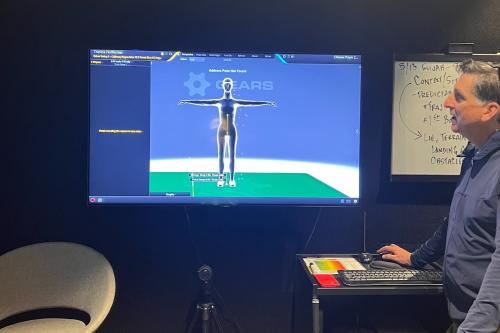 The House of Sports in-store experiences have everything you need to help maximize your game and gear. Featuring a 32-ft rock climbing wall, outdoor turf field, batting cages, and even a putting green, you are sure to get a feel for the gear you need to perform and look your best. Despite my strong desire to try on every cute pair of running sneakers on the wall, my purpose there this time was to experience their Trackman hitting bays and 3D GEARS Technology.
As a genuine beginner (I've golfed only about five or six times with friends who liked me too much to tell me how atrocious my swing was), I have limited knowledge of what correct form would look like. This was a perfect test to see if these hitting bays were helpful to beginners. Spoiler alert: They're AWESOME.
Upon arriving at my lesson, Sean asked me what my goals were, how often I have played, level of knowledge, etc. I told him that I was a new player who wanted to work on my form, as well as increase my golf knowledge and ability at a basic level.
 
To begin, he set me up with a club and ball where I did some practice swings. After a few drives, Sean asked me what I think about when I hit the ball. I told him, to my own surprise, that I wasn't thinking anything.
Sean told me the first important thing is to have an intention when you swing the club. "Having a goal of what you're doing gives your body a subconscious purpose. Not consciously thinking while you're swinging yet, but more so feeling and having that goal and intention of what you want to do. For example, maybe your goal is related to the direction you want the ball to go. Once you make that decision, your muscles begin to naturally follow."
 
After you are swinging with intention and envisioning what you want, then you can focus on getting the club to do what you need in order to accomplish the goal.
 
Since I'm a beginner, we started with basic form practice, going over stance, arm motion, and how to move your weight through your body to create the force to drive the ball. In some of the warm-up drills, Sean had me practice the motion with a medicine ball, having me throw it to him at the completion of the swing. This really helped my body understand how the full swing should feel.
 
After that, I got suited up in their 3D GEARS technology. The suit (consisting of slippers, a vest, belt, knee straps, and a hat) allowed the program to be able to fit my skeleton and track to the tv screen, so as I moved, so did the itty bitty Theresa on the screen. The same technology also tracked the club and detected the ball. Simultaneously, the 3D imagery was being recorded, so we were able to watch it back afterwards. After a few hits and more exercises with Sean, we were able to gain a lot of information.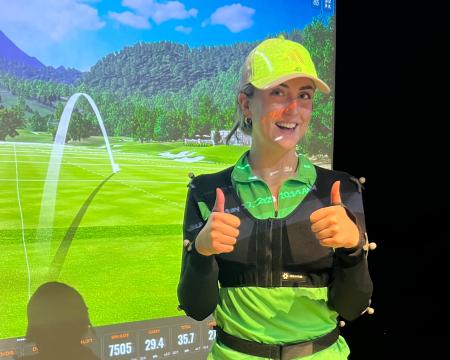 Once I was done with the physical part of this lesson, we compared my swing from before and after. You guessed it, we saw improvements! The technology is able to track my full swing, from right shoulder to left shoulder. It represented the path of the drive, showed the velocity, speed, angle of my limbs, and how many yards the ball would have gone. 
From the first swing to the last, I was able to take up much more space, my weight was transferring more to the front, and my chest was better angled and lifted at the end.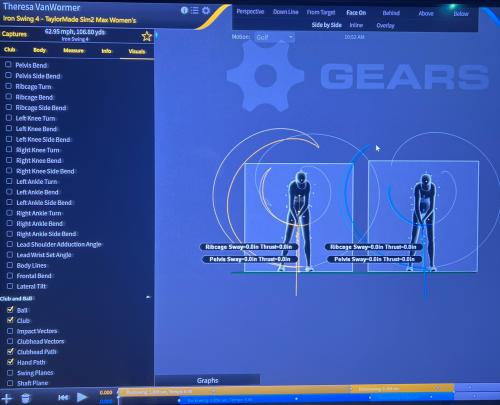 The individual points on the 3D gear allow for the most precise information. You can see your swing from all angles, even able to zone in on things like rib cage bend, left knee turn, lead wrist angle, and more. Along with all this, is the system's ability to compare all these niche factors with PGA pros. 

 
The joy in my improvement was short-lived when the program was able to compare my swing to Lydia Ko, one of the top female golfers in the world. Regardless, this was helpful in seeing what to work towards as I grow my swing. "It's not about being Lydia Ko," Sean reminded me, "it's about being Theresa and finding your own swing to create the results that you want. This is just a great way to see how others create power and can help you envision how to do that for yourself in your own way."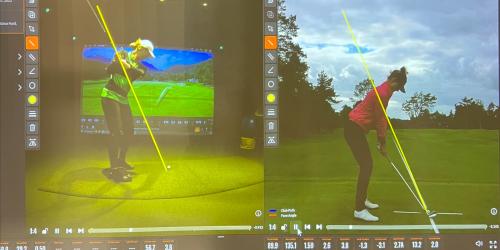 Despite my slight disappointment in not becoming a world class golfer in one day, I was genuinely thrilled by Sean's patience, encouragement, humor, and knowledge of the sport. The technology is enough to keep me interested, but what would make me come back is the guidance provided alongside it. With a genuine interest in me as a student, as well as my personal goals, Sean was able to create a lesson that is exactly at a level that I can understand and be challenged by. He wasn't even fazed when a ball I chipped whizzed by his left ear at 55 miles an hour… twice.
 
The technology is state of the art; but the people at DHS in Victor are what make it worth the return, easy to understand, and SO MUCH FUN! If you are in town for the PGA, generally interested in the golfing attractions in the Finger Lakes, or a beginner looking to improve like me, I recommend you stop by and check out Dick's House of Sport, you will only become a better player for it!
If you are interested in learning more about other golf attractions, check out these links below. Plenty of open spaces, green fairways, and refreshing post-golf beverages here in the Finger Lakes.