Sometimes you go to a bar or restaurant for a drink and try something new and wonder, where did that come from? That happened to me recently when I was at Lake Drum Brewing in Geneva, trying a flight of hard ciders from the region. One in particular stood out. It was a pleasantly spicy and alluring ginger cider, sweet but not cloying, and it tasted great with the popcorn I was eating. I could imagine it tasting even better with some Chinese food. I was thrilled when I discovered that the producer, Star Cider, is just a few miles away in Clifton Springs. The apples used for production come from Seneca Orchards, a family-owned orchard in nearby Seneca Castle.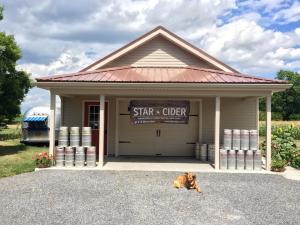 Star Cider is new to the lineup of Finger Lakes hard cider producers. Right now, the ciders are only available on tap at bars and restaurants in the region including Lake Drum Brewing, Beef and Brew, Ridley's BBQ, and Kindred Fare in Geneva; the Green Front Restaurant and the New York Wine & Culinary Center in Canandaigua; and Water Side Wine Bar in Phelps. Pictured here is the production facility, which is not open to the public.
Star Cider is owned and operated by husband-wife duo Adam and Cortni Stahl, who both grew up in Ontario County. They had been making hard cider in their garage for years as a hobby, and as a way to spend time with friends, and decided to turn that hobby into a business. Star Cider formally launched earlier this year, and has grown enough that the Stahls will be moving production to a larger building in nearby Seneca Castle.
Although Adam's day job is in information technology, he has a lot of family history with farming and hard cider, and considers it to be part of his DNA. His grandfather made cider, so too did his great uncle, and by the time Adam was a teenager he was taking part in the process as well. He can't remember a family celebration that did not include cider.
Cortni has a biology background, which led her to a career in fermentation science. She has worked for other hard cider producers and now works in the Viticulture and Enology Program at the New York State Agricultural Experiment Station in Geneva.
A scientist by training but an artist at heart, Cortni loves to experiment with different yeasts and fermentation techniques, which is why Star's lineup includes everything from a whisky barrel-aged cider to a citrus cider spiced with peels and fruit. There are also seasonal releases.
In the near future, Star Cider hopes to open up a tasting room where you can try and buy their product. Their plans also include buying land where they can grow more apples (they already have several dozen trees planted) and build a house (they sold their house and have been living in an Airstream parked behind their production garage in order to get the business started) .
In the meantime, you'll have to visit the local bars and restaurants mentioned above to give it a try. Trust me, this is not a hardship.  
All this cider talk may inspire you to sample some other hard ciders from the Finger Lakes. Here are some places where you can do that:
Lake Drum Brewing: This brew pub in Geneva also makes its own hard cider in season. 
Cider Tree Hard Cider: This cider is made at Hazlitt's Red Cat Cellars in Naples, where you can try it in the tasting room. You can also buy Cider Tree at Wegmans Food Markets.
Blue Toad Hard Cider Tasting Room & Cider Pub: Drink some great local cider in a blue train car in Victor. Choo choo and cheers!
Kashong Creek Craft Cider: This hard cider bar in Geneva offers great ciders from the Finger Lakes and around the world. It will soon offer its own cider as well. 
Raymor Estate Cellars: This small winery in Bloomfield also makes hard cider from local apples.
Three Brothers Winery at Eastview Mall: This satellite tasting room in Victor includes Three Brothers' Red Apple Bombshell ciders.
Glass Factory Brew House: This Geneva brewery offers hard cider.