Between the rush of the holidays and the winter cold, sometimes you just wanna stay home. If you are looking for something special to do for your significant other, a friend, or yourself, this is a guide to bring the Finger Lakes romance home with you. 
Step 1: Bundle Up and Enjoy the Crisp, Fresh Finger Lakes Air!
I know, I know, I just reminded you of how cold it can be outside, but there is nothing quite like a Finger Lakes sunset--especially in the winter. Grab your coat and mittens, and get the night rolling with a stroll outside. Not only will this be a fun experience to share, but it will create the perfect opportunity to warm up with dinner later! Here are some suggestions for trails or sunset views near you:
Kershaw Park, Canandaigua : This is a premier spot for sunset watching that is easily accessible and open to the public. Kershaw Park is located right on the edge of Canandaigua Lake. If the afternoon is clear, this spot provides a gorgeous view of the sunset over the frosty water. There is a walkway that runs along the water, making it a perfect place to wander around, you can even bring your dog!
Cumming Nature Center, Naples: Winter is a beautiful time to explore the nature trails at Cumming Nature Center – including a 3-mile loop for snowshoers! Don't worry if you don't have your own, snowshoe rentals are also available.
Bare Hill Unique Area, Canandaigua: On the eastern side of Canandaigua Lake in Gorham, the trails up Bare Hill show gorgeous views of the lake to your west.
Lehigh Trail, Victor: This newly improved trail has a stone dust surface, making it perfect for snowshoeing! Approximately two miles in length.
Step 2: Grab a Gift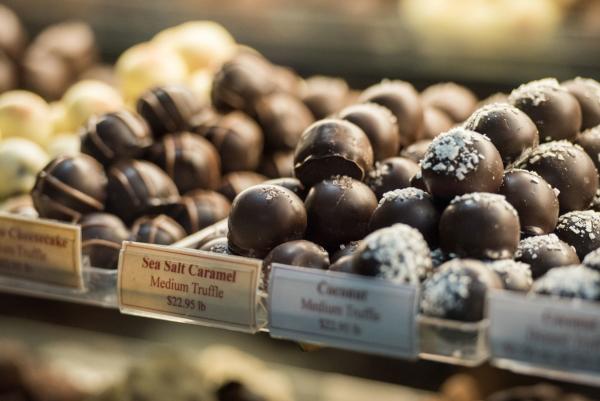 Bring a sweet or a gift home to enjoy after your walk. Whether you are looking for something sweet or a memorable keepsake, here are some local spots to look for a thoughtful surprise.
Sweet Expressions: Specializing in fine chocolates and gourmet gift baskets, Sweet Expressions has been providing custom created chocolates since 1997. Located in the heart of Historic Downtown Canandaigua, you are greeted with the sweet smell of chocolate when you walk in. You'll find delicious chocolate in every variety, many of which are made daily at Sweet Expressions. 
Bloomers Floral & Gift: Bloomers Floral and Gift, in Bloomfield, NY offers a wide variety of products from chocolates and candles to hand made jewelry, garden gifts, and plush toys in addition to custom floral arrangements and fresh bouquets for any occasion.
Artizanns: In Naples, NY is a gift-gallery featuring over 250 of the finest Finger Lakes artisans with thousand of treasures created from the heart and crafted by hand. They sell jewelry, candles, pottery, artwork, and crafts of all kinds only by Finger Lakes artists. 
Step 3: Make Dinner Together

Keeping it simple can still be both tasty and romantic! Here is a recipe for a delicious homemade pizza, based on Finger Lakes chef, Chef Eric K. Smith's recipes. Check out his article here. 
Pizza Dough -- Makes a 10 - 12 inch pizza
Pre-Heat the oven to 450F
One tablespoon of active yeast
Two cups of bread flour
1 and 1/2 teaspoon sugar
1 teaspoon salt
1 tablespoon of olive oil
3/4 cup of warm water
"In small cup dissolve yeast in 1/4-cup warm water with sugar. Set aside until yeast foams. Place 2 cups of flour in a bowl. Add salt and stir to mix. Add yeast mixture, the remaining warm water, and oil. Stir to make stiff dough. Flour a board with the remaining flour and turn dough out. Knead until smooth, about five minutes. Place in an oiled bowl, turning the dough to oil all sides. Cover with towel. Place bowl in a warm spot and allow dough to rise for 30 minutes or until doubled in bulk. Roll, spread or toss the dough and spread sauce on top and cover with toppings of your choice. Bake for 16 to 20 minutes in preheated oven." - Chef Smith
Bonus: When you roll out the dough, you can form it into the shape of a heart!
Pizza Sauce (1-1/2 cups) -- Chef Smith's recipe
• 1 cup onion, diced
• 1 to 2 cloves garlic, peeled and minced
• 1 teaspoon olive oil
• 1/4-cup tomato paste
• 1 cup of your favorite red wine (we suggest Inspire Moore's Timothy Moore Cab. Sauvignon)
• 1 cup whole peeled tomatoes
• 1 teaspoon fresh basil, chopped
• 2 teaspoons fresh oregano, chopped
• Kosher salt
• Fresh black pepper to taste
"Over low heat, sauté onion and garlic in olive oil until they're soft but not brown. Toss in the tomato paste and cook for about three minutes until soft and the onion and garlic are coated. Add the red wine and simmer until it gets thick. Pour in the whole peeled tomatoes along with the fresh herbs. Simmer, covered, over very low heat for 30 minutes to an hour. Use a stick blender to purée. (A regular blender can be used, but hot food has been known to blow the top off the blender's pitcher.) Season to taste with Kosher salt and fresh cracked pepper." - Chef Smith
Step 4: Pair Dinner with a FLX Wine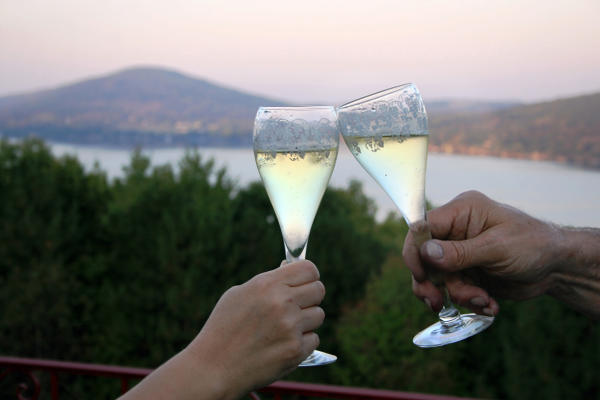 Now for my favorite part--the wine! The Finger Lakes Region is known for its Riesling, Chardonnay, and Pinot Noir wines. Here are some of our favorites from wineries along the Finger Lakes Wine Trails.
Inspire Moore: A boutique winery, vineyard and retail shop that is an eco-friendly business focusing on sustainable practices from vineyard to tasting room. The winery has been featured in Brides Magazine for its excellent Love Riesling. Directly next to the tasting room is Roots Cafe, offering hand-made meals featuring as many local ingredients as can be found.
Change Dry Blaufrankisch - A dry red wine that's grapes originated in Germany, but love the Finger Lakes climate as well.
Love Semi-Dry Riesling - The flagship white wine of Inspire Moore. Balanced juicy apricot, white peaches and lingering honeysuckle. Riesling wine is the signature wine of the Finger Lakes, and this dry Riesling is perfect for pairing with Valentine's Day dinners.
Hazlitt Red Cat Vineyards: The 7th generation Hazlitt family continues its 165 plus years family tradition of award-winning viticulture and wine production at Hazlitt Red Cat Cellars, located in the heart of beautiful Naples Valley. Formerly known as Widmer Winery, it's one of this region's most historic and long-standing wine producers in the nation.
Bramble Berry - A "berry-licious" sensation! Lush Concord grapes are infused with natural flavors of red and black raspberries to create a refreshing wine that's fun to drink! 11% alc. | 8.5% Residual Sugar                                     
Arbor Hill Grapery and Winery: Arbor Hill Winery is located in South Bristol, NY, just north of Naples at the southern end of Canandaigua Lake. Established in 1987, they occupy a complex of vintage buildings in a wonderful warm New England country setting. One of the region's premier wineries, they were the first to produce the award-winning Traminette, a spicy, semi-sweet hybrid of Gewurztraminer.
Noir - This dark red wine is made by skin fermenting Marechel Foch other premium grapes at a warm temperature, encouraging a subsequent malolactic fermentation. The wine is then aged in oak to provide a "just right" complexity of fruit and oak flavors. As a result of careful nurturing, you can enjoy a distinctive, deep, dark red wine of mellow character, ideal for further aging.
Traminette - known for its spicy, fresh – fruit character. ("Gewürzt" in German means spice.) As it bottle ages, it takes on flavors reminiscent of the great French Sauternes, exhibiting a diminished presence of spiciness but an increase in honey and apricot overtones. Enjoy with flavorful entrees, particularly cuisines from the Orient and India, and as a perfect accompaniment to cheeses such as Brie or Camembert.
Song Hill Winery: A small family-run winery in Victor, NY. They utilize high quality, hand-picked grapes from the Finger Lakes and Lake Ontario viticulture areas to produce ultra-premium wine from the cool-climate varietals of Cabernet Franc, Pinot Noir and Chardonnay that thrive in the surrounding region. They are closed in-person at this time, but you can still purchase online from their storefront here.
Diamond - This semi-dry white wine is made from the Diamond grape, a hybrid cultivated in the 1880s in Brighton, NY, specifically for this region. Tasting notes: Lime and starfruit on the nose, tropical fruit, especially pineapple, mid-palate with a lemon curd finish.
2020 Riesling - These Riesling grapes were hand-harvested from October 14-15, 2020. They were de-stemmed and gently bladder pressed. After a twenty-four hour cold soak, the grapes underwent a slow, cool fermentation in stainless steel for one month before racking. Aromas of apple cobbler and star anise, with flavors of peaches and star fruit mid palate and minerality and citrus on the finish.