Traveling on a budget? Or simply want to give your wallet a break? Ontario County has plenty of groovy things to do that are free (or pretty darn close). From art demonstrations and live music to yoga on a farm and Pilates in a castle, here are ten super-fun Finger Lakes freebies. 
You're welcome.
1. Community Brew Night (Free)
The VB Brewery in Victor invites home brewers and all beer enthusiasts to bring some beer (their own or favorite craft brew) and a snack to share at the brewery on the third Tuesday of each month from 6 to 9 p.m. 
2. Drumming circle (Free)
Two Herons Drum Circle in Geneva invites beginner and expert percussionists of all ages (kids included) take part in a free-flowing drumming session. The group meets from 4 to 5:30 p.m. on the first Sunday of every month either at a local church or on the shores of Seneca Lake. Check the Two Herons Drum Circle Facebook page for location.
3. Art demonstrations, lectures, film screenings, events (Free)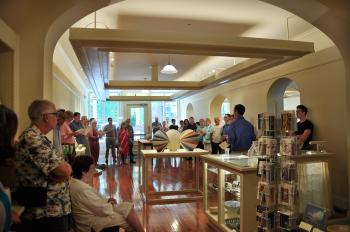 Maybe it's a movie about a world-famous photographer. Perhaps it's a tintype demonstration and lesson for fans of wet plate photography. Or it could be an invitation to create your own masterpiece on a 6-by-6-inch piece of canvas. Every month, Main Street Arts in Clifton Springs hosts something free and artsy happening at this dynamic commercial gallery that showcases Upstate New York artists. Check mainstreetartsgallery.com for the schedule.
4. Tunes by the Tracks (Free but donations welcome)
Listen to local musicians at the Clifton Springs Library in Clifton Springs, which used to be an old train station. This event usually runs the first and third Wednesday of each month at 7 p.m. Check jimclare.org for schedule. For library information, go to cliftonspringslibrary.blogspot.com.
5. Geneva Night Out (Free)
Merchants and businesses invite the public to enjoy art, culture, food, drink and merriment throughout downtown Geneva on Geneva Night Out, the first Friday of each month from 5 to 8 p.m. The event has a different theme each month. For more information and map, go to genevanightout.wordpress.com.
6. Saturday Crafternoons (Free)
The Honeoye Craft Lab in Honeoye invites crafters of all stripes every Saturday from 4 to 6 p.m. to bring their projects and work on them in the company of fellow crafters. For more details go to honeoyecraftlab.com.
7. Hosted Open Mic (Free)
Brew & Brats at Arbor Hill in South Bristol/Naples invite you to bring your musical instrument, your friends and your talent for this Hosted Open Mic every Saturday from 6 to 9 p.m. Grab a beer and a sausage dinner (you do have to pay for those) and enjoy the songs. Go to brewandbrats.com for more information.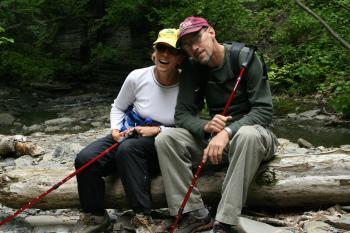 8. Guided hike (Free)
A representative from the all-volunteer trail building group, Victor Hiking Trails, leads a two-to-three-hour hike, usually on the second Saturday of the month, starting at 9 a.m. Check victorhikingtrails.org to find out dates, times and starting locations.
9. Yoga on the Farm (Free)
The HWS Fribolin Farm in Geneva, part of Hobart and William Smith Colleges, offers a free mid-day yoga class for the public on Mondays and Wednesdays. The class is indoors during cold, wet weather and is held outdoors in the summer when the weather cooperates. Mats, straps and changing area are available. Check the HWS Fribolin Farm Facebook page for details.
10. Pilates in a castle (Free)
Belhurst's Isabella Spa-Salon in Geneva offers a free Pilates class every Tuesday at 4 p.m. The class takes place in Belhurst's Meritage Ballroom, or if the weather is nice, on the lawn overlooking Seneca Lake. The class is open to the public and led by Isabella Spa-Salon's Ellen Reeder. Go to belhurst.com/spa to learn more.